I adore my husband. He is kind, thoughtful, an amazing dad, landscaper, trashcan cleaner, litter box scooper, toilet scrubber, good kisser (but better without stubble), back tickler, and on the list goes. Oh, and handsome doesn't hurt.
He is also a black bean lover as evidenced last week. I decided to take advantage of this.
Daddies are also great for eating food and with that simple act, making kids want to have what daddy is having -> Try this with your picky eaters my frustrated parental peeps. Have the hubby sit in the middle of the family room (forbidden – gasp) and have him eat. The kids will come over and want to have what daddy is having while he 'breaks the rules'.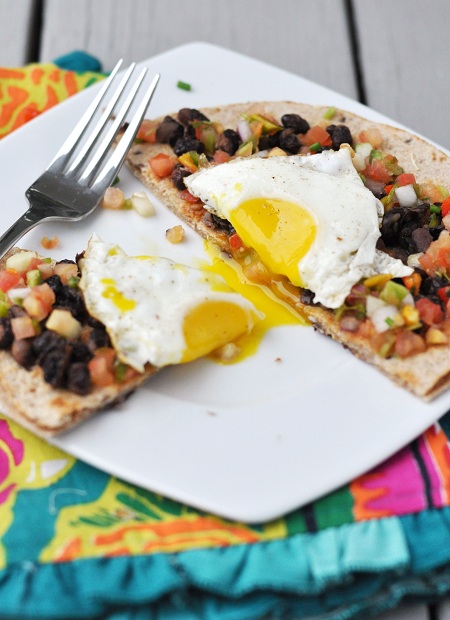 Quick Mexican Breakfast Tostada Recipe (per person)
Ingredients:
2 whole grain tortillas
Shredded Gouda cheese (or any easy melting cheese)
1/2 teaspoon plus 1 tablespoon olive oil
1/3 cup black beans, rinsed and drained
4 tablespoons salsa
1 organic egg
salt and ground pepper, optional.
Directions:
1. Heat a non-stick pan over medium-high heat. Place one tortilla in the pan, scatter the Gouda over it (just a touch – did not measure) and then place the other tortilla on top. Turn the heat down to medium.
2. Allow the tortilla to brown a bit on the bottom (turn heat down if browning to much) and then flip the tortilla 'sandwich' over.
3. Once both sides are browned, place the tortillas on a plate. Add 1/2 teaspoon oil to the pan followed by the black beans. Gently move the beans around the pan as they warm. Place them on top of the tortilla.
4. Pour the one tablespoon of oil to the pan and then add the egg. While the egg is cooking, place the salsa on top of the black beans. To cook the top of the egg, gently spoon some of the hot oil on top of the egg.
5. Gently place the egg on top of the now titled tostada. Sprinkle some salt and pepper on top and dig in.
How do you make mealtime fun?