Okay, okay, simmer down now. Then again, don't simmer down as these are awesome right?!
I received the Babycakes Cake Pop Maker I was all like, there is no way I am going to simply make cake pops with this machine. Yes, I do love it for making cake pops as a nice alternative to the super wet overly sweet traditional kind but heck, I will get to the review in a bit.
First up, when the kids saw the machine, we got right down to it and made a quick and dirty spice cake mix because I figured Betty Crocker has the recipe all perfected (although I usually make scratch) so that was a good way to test the machine the first time.
However, the second my daughter ate one cooled ball from the machine, she exclaimed 'Mom, you made a pancake ball! 'HOLY MOLY!', I thought, I am going to invent sweet potato pancakes balls!!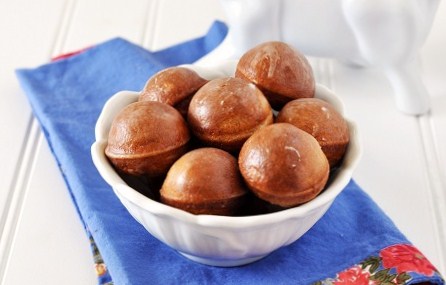 Sweet Potato Pancake Balls (more than 48 pancake balls)
3/4 unbleached all-purpose flour
1/2 cup whole wheat flour
2 teaspoons baking powder
2 teaspoons ground cinnamon
1/2 teaspoon salt
1/2 cup packed brown sugar
1 cup 1% milk
1 tablespoon canola oil
1 teaspoons vanilla extract
2 large eggs, lightly beaten
1 sweet potato, cooked until tender, peeled and pureed*
Cooking spray
Directions:
1. Combine flours and next 3 ingredients in a large bowl, stir and set aside.
2. In another large bowl, whisk eggs and then add the sugar through vanilla and whisk well. Add the 'wet' mixture to flour mixture, stirring just until moist.
3. Fold in the pureed sweet potato. Now, plug in the cake pop maker.
4. Once the cake pop maker light indicates it is ready, add 1 Tablespoon to each bottom well, close the lid and cook for 4-5 minutes.
Top with a confectioner's glaze if you wish followed by a bit of real maple syrup or simply dust with confectioner's sugar and maple syrup.
*I pierced a washed and dried sweet potato several times with a fork and placed the potato on a plate. I microwaved it for 5 minutes, flipped the potato over and microwaved an additional 4 minutes. The potato was soft and when squeezed, could easily be mushed.
My Review of the Babycakes Cake Pop Maker**:
Pros:
*The tray that not only holds the cake balls to cool, but also then hold 12 sticks while the icing/topping sets.
*A great way to make cake balls without having to mix in tons of icing and then saving you rolling them into balls and the texture is much lighter.
* One can get creative (note pancake ball recipe above – ahem)
* The machine is not too large so it does not require large amount of storage space.
*Definitely makes cake pop making a bit more enjoyable.
*Super fun!
*Easy to use for sure as no need to assemble and read 20 pages of instructions
*Great recipes included
*Easy to clean
*Non-stick surface
Cons:
*The cooling tray can only hold 12 cake balls and/or cake pops at a time.
*The balls did not, for me, come out looking like perfectly round balls as it may look on the box. Once they are iced however, they look rounder. (note: I positioned the ones in the photo just right and most were not that round)
*Easy To vary the roundness if you under or overfill each well. It may take one or two batches to find the perfect amount of batter.
*Can only make 12 cake balls at a time so can become a time-consuming process.
*This machine gets hot on the outside as well so kids may want to help out but should stay away from the machine.
*A bit tricky the open the machine sometimes and make sure you are using an oven mitt.
*Would be nice if there was a timer as you may forget to reset your oven timer each batch.
*Without the added icing into the cake batter, it is a bit easier for the cake pop to come off the stick so be sure to follow recipes and suggestions in the manual.
**I used a super moist cake mix the first time I tested it and made cake pops with candy melts. I tried both using a spoon to pour the batter into the wells as well as using a sandwich bag with a snipped corner. I found it much easier to control the batter using a spoon. I then used my pancake batter to see how flexible the machine was.
Have you ever made cake pops?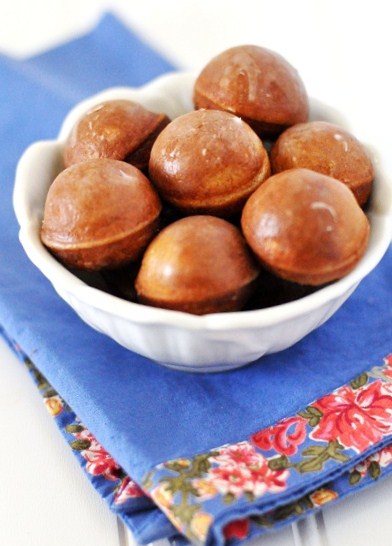 Disclosure: I wrote this review while participating in a campaign by Mom Central Consulting on behalf of Babycakes and received a product sample and a promotional item to thank me for taking the time to participate."