Do you recall that yesterday I shared our adventures and then asked you 'How do you Savor the Thyme' (by the way, no one responded)? Well, after all the activity, my body was telling me it was dang hungry and thirsty after all the activity.
I drank water, ate a fabulous egg white wrap, drank an iced coffee and guess what? I was still in need of hydration so I opened the fridge door and scoped out the offerings. The berries and watermelon jumped right out at me and seeing they are so darn full of water, I knew they would foot the bill.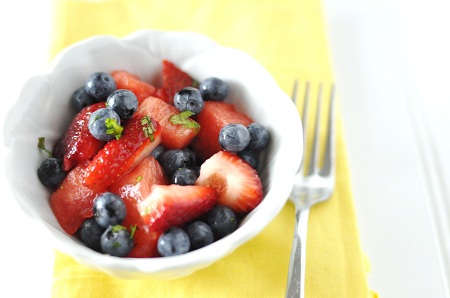 To be honest, the kids did not want a mixed bowl of fruit, they simply wanted to pick at them pre-mixing which is fine with me but for myself (and my friend and my hubby), I combined, added cilantro from the garden and made a simple dressing.
Double the recipe so you have enough for more than three peeps because we all ate it as a main course.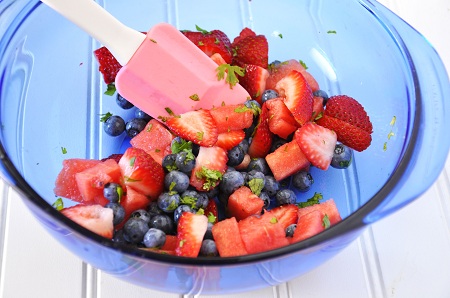 Tri-Fruit Salad with Orange Lime Agave Dressing (serves 5-6 as side dish)
1/2 pint blueberries
6 medium-large strawberries, sliced
2 large slices of watermelon, chopped (I would say a cup of watermelon)
1/3 cup orange juice
1 teaspoon lime juice
1 teaspoon agave nectar or honey
handful of fresh cilantro, minced (I bet mint or basil would be amazing as well. I did not have any so I used cilantro and was thrilled with the flavor)
Directions:
1. Prepare all fruit and place in a bowl
2. Whisk together the orange juice, lime juice and agave nectar.
3. Combine fruit and dressing, sprinkle with cilantro and gently combine.
How do you stay hydrated?