Knitting needles. Ever since Camp blogaway, when I think of Erika Kerekes, from In Erika's Kitchen, I think of knitting needles.
Why you ask? Oh, let me tell you: just about anytime I looked around at Camp Blogaway, I would see Erika knitting. Nope, she was not in her own world ignoring the conference. In fact, I think it kept her more in tune.
She was on top of everything. She would be interacting with the speakers, attendees, being helpful to the fabulous Patti, the organizer of the conference. She was on top of everything all while knitting away.
She also charmed the stinking pants at everyone at the conference. She was so helpful and sweet.
Let's learn more about Erika: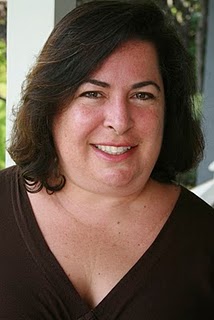 1. I am a terrible sleeper. When I'm up at 3am, I bake – but very quietly, because my kids' bedrooms are near the kitchen. Also, I am a princess when it comes to sleeping conditions: six pillows in a very specific configuration. With which I have been known to travel.
2. Things I plan to do someday: temper chocolate, play the French horn, put a pink streak in my hair, buy another convertible, live in the south of France, lose 75 pounds (again).
3. My house is such a mess that I worry secretly I am going to end up on "Hoarders."
4. I can still taste the peanut popsicles I had in Tiananen square in 1983, the summer I went on a youth orchestra trip to China.
5. My husband and I met through a dating service called Classical Music Lovers' Exchange. I lived in New York, he was in Los Angeles. We wrote letters – on paper – and talked on the phone for six weeks before we actually met in person. We've been married fourteen and a half years.
6. I did not cry when my kids learned to walk or on their first day of school, but I bawled when they learned to swim.
7. Until college I really thought the song "Afternoon Delight" was about ice cream and fireworks.
8. When I got my first apartment, my grandmother took me shopping at Fortunoff for kitchen supplies. I use the nesting stainless steel mixing bowls daily.
9. Sometimes I pretend to take a nap just so I can close the bedroom door, get under the covers and watch reruns of The Millionaire Matchmaker.
10. Things that make me claustrophobic: aprons, makeup, socks, closets, wool sweaters, fingernail polish (but I'm okay with painted toenails). 
Stop by In Erika's Kitchen and tell Erika that I sent you.
Keep up with the series and the 'Savor the Thyme 'community via Facebook and Twitter.