In case you have been sleeping in a cave, I love cheese. No, that is not true: I adore cheese so much it borders on the ridunculous.
My top favs. are cheddar and feta….and love me some provolone and Parmesan. oh heck, there aren't many I don't like.
So imagine my reaction when I was asked to throw a cheese tasting party? Talk about a no-brainer.
If you recall, my cousin and her kiddos were visiting and I was giddy with excitement to introduce them to some of our cherished friends. And really, I don't need an excuse to have some lovely peeps over to our home.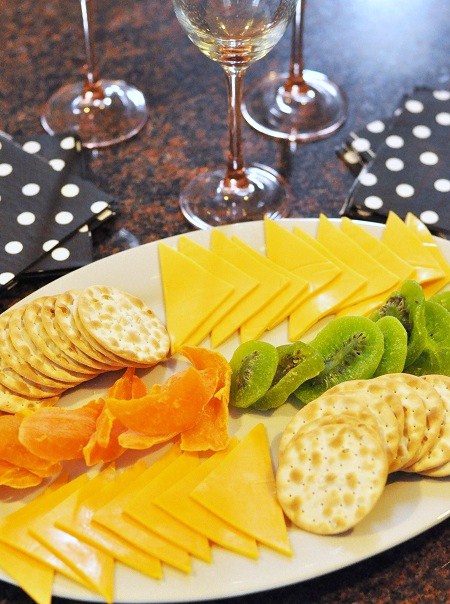 The purpose of the cheese tasting party was to sample both Sargento natural cheese and slices of processed cheese and chat about the best way to select natural cheese.
We also nibbled on other tasty snacks of crackers and dried fruit. Along with the food, we discussed the proper way to select natural cheese, focusing on the texture, scent and color of both real and processed cheese.   
Let me tell you, I can not believe I ever ate that processed junk as a kid. My kids repelled it and one child stated 'I don't want to eat the jiggly stuff'
Speaking of jiggly stuff: what are the main differences between real cheese and processed cheese:
Real Cheese:
*Contains: milk, cheese cultures, enzymes, salt
*Aged
*Tested by professionals
*Cut and packaged immediately
*Needs to be refrigerated
*Less sodium than processed (a 21 gram slice of Sargento cheddar is 130 mgs)
Processed Cheese:
*Contains: added emulsifiers such as, calcium phosphate, sodium citrate and sodium phosphate and maybe sorbic acid fora  preservative.
*Often stored on shelves with no refrigeration
*Made from real cheese versus a solid piece of real cheese
*Cooked into a liquid before being shaped into a slice
*Heated to 180 degrees which can strip some flavor
*Much higher sodium than real cheese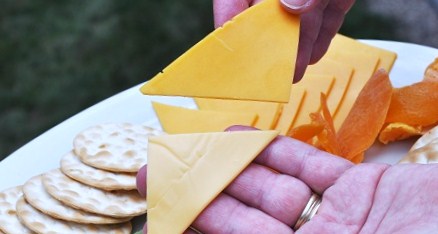 How to Taste Cheese (besides shoveling it into your mouth or melting it on noodles):
A. Look at the Cheese: It should be a non-glossy, not shiny appearance unlike the shininess of processed cheese. What do you see when you observe the cheese?
B. Touch the Cheese: Bend the cheese and feel its' texture. It should break in an authentic fashion  versus processed cheese that is often quite rubbery. Ever notice how pliable and bendy the fake cheese slices are? yuk. Does it feel mushy?
C. Smell the Cheese (as you do wine): The scent of cheese varies from earthy to fruity where processed cheese smells sort of like cooked milk. What aromas do you pick up?
D. Taste the Cheese: Again, depending on the type of cheese, the taste with vary from savory to spicy to fruity to sharp but should not be primarily a strong salt flavor. Wen I bit into the processed cheese, the first flavor that hit me was too salty. How does it finish? Does the taste linger?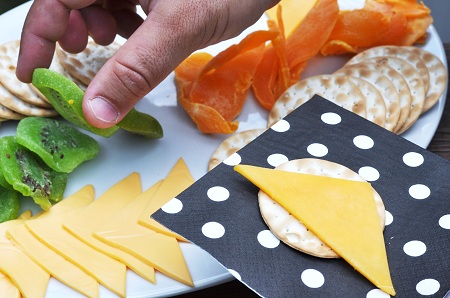 Disclosure: I worked with The Motherhood and Sargentoto bring you this most tasty post. They provided the cheese, dried fruit and cute napkins for the party. Plus, they paid me for my time.