You already know that I have a mini-obsession with ball jars: proof available here, here and here.
But I have only been using them for picnics, styling and gifting of dry mixes.
My daughter and I decided to unpack the Ball Canning Discovery Kit I was sent and start off nice and easy by using the Ball Kosher Dill Pickle Mix for our first foray into canning.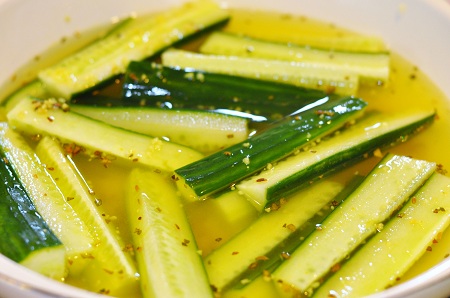 We had such a fun time prepping the cucumbers, mixing the pickling mix and giggling in our kitchen.  
I spoke to my mom on the phone last night and asked her to refresh my memory of canning tomatoes when I was a kid. Let's just say, she had a lot of cleaning to do. This reaffirmed my decision to start off canning pickles with my daughter. I was not concerned about my daughter making a mess; I was concerned about me making a huge mess. hehe.
I am super excited that my mom is coming for two weeks as we are already planning on canning all the lovely tomatoes we have grown. From salsa to marinara, we are looking forward to it. I hope my kitchen can handle it.
After I finished canning the pickles with my daughter, I flipped through some materials that were sent to me with the starter kit and I saw that August 13th is National Can-It-Forward Day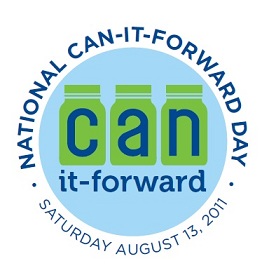 What is that you say? On August 13, millions of food lovers curious about canning can learn the ease and benefits of preserving fresh food. Jarden Home Brands has teamed up with Canning Across America, a nationwide collective of cooks, gardeners and food lovers committed to the revival of the lost art of "putting up" food, to create the first annual National Can-It-Forward Day.
Find out how to participate and follow along with National Can-It-Forward Day.
Disclosure: Some one who works for Ball or their PR company sent me the fabulous canning discovery kit after they saw the posts with the ball jars. Cool.
Lead photo courtesy of Ball.