Psst….It's true what the say: two many females leads to too much drama and such is the case with Hurricane Irene. She can't be in my girlfriend posse. She is rude and makes everything about her. Hunh!
FYI: Besides a sore body from moving many tree limbs and sticks, we are a-okay!
I will share more on Hurricane Irene and all of our goings on soon but up first, the other meal we made while cooking up perishable foods before Irene came a-callin.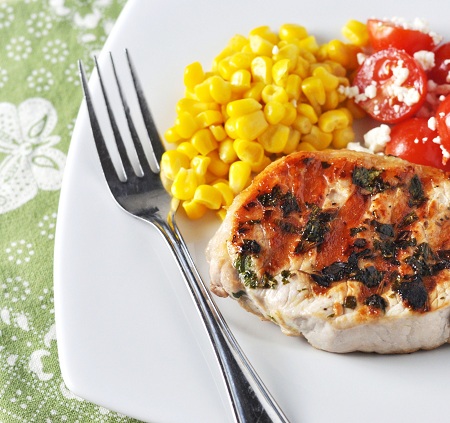 We had parsley, cilantro, & garlic to use as well as pork chops and some vegetables.
This was super simple recipe that gives you no excuses for a tasty din-din.
Quick & Easy Herbed Pork Chops Recipe (4 servings)
Ingredients:
1-2 tablespoons chopped fresh parsley
1-2 tablespoons chopped fresh cilantro
1/2 teaspoons dried rosemary, chopped
1/2 teaspoons dried thyme, chopped
2-3 cloves of garlic, chopped
2-3 tablespoons extra virgin olive oil
4 thick boneless pork chops
salt and ground black pepper, to taste
Directions:
1. Combine all of the herbs and garlic with the olive oil.
2. Place the pork chops in a storage bag or dish and add the herbed olive oil. Rub the herbed oil all over the pork chops and refrigerate for a minimum of 2 hours for maximum flavor.
3. Heat an indoor or outdoor grill. Cook the pork chops for 3-4 minutes on both sides or until an internal temperature of 145 is reached.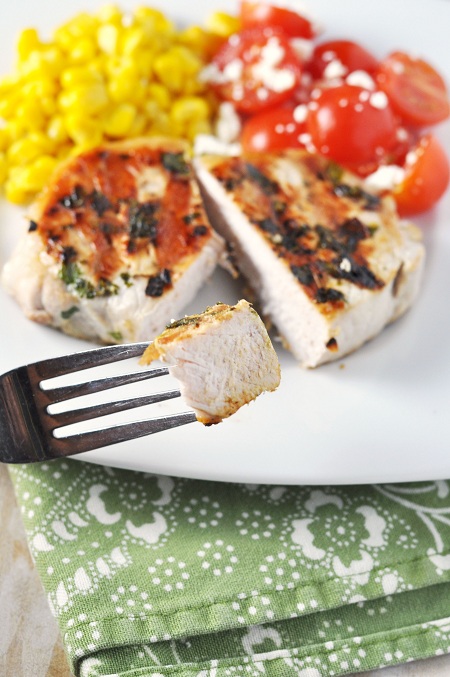 What are your favorite herbs?