Stinky Winkers.
That is the nickname I call my son when I am going to spring some kid-repelling food on him or, when I am going to try to snag some kisses.
Come here stinky winkers, momma has something for you…..open your mouth. open your mouth. come on, open your mouth.
Whining, wincing, most time an approval. This time, not so much BUT the rest of the family and grandparents loved it.
Take that Stinkers!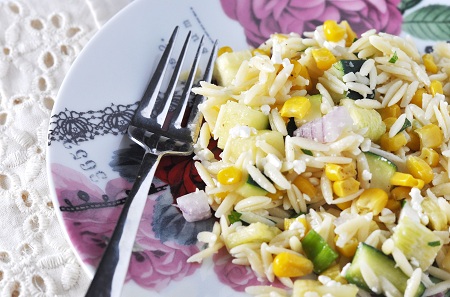 Corn, Zucchini & Feta Orzo Salad Recipe
Adapted from Martha Stewart Everyday Food, September 2011 = awesome edition!)
Ingredients:
1 lb orzo, cooked
4 tablespoons extra virgin olive oil
2 zucchini, diced
1 lb. corn, sauteed and cooled
1/2 red onion (or 2 scallions), minced
1 cups crumbled feta
a few handfuls of fresh parsley
Directions:
1. Bring a large pot of salted water to a boil and cooked the orzo as directed on the box. When completed rinse with cold water to stop the cooking and set aside.
2. Heat 1 tablespoon of extra-virgin olive oil in a large pan over medium heat. Add the corn and let it saute for 4-5 minutes, stirring often. Allow to cool in a large bowl. If you want, you can always use grilled corn fresh off the cob.
3. Once the corn is cool, add all the remaining ingredients and toss well. Season if necessary.
What are your favorite side dishes/salads?