ri-dunc-u-lous, ri-dunc-u-lous, ri-dunc-u-lous
That is the only word to describe this sandwich. Well, okay, I suppose spectacular, amazing and out of this world would suffice but really, are they as emphatic as ri-dunc-u-lous!?!
Eat this. Now. Only with those you love the most because they are worth this sandwich.
Nuff said.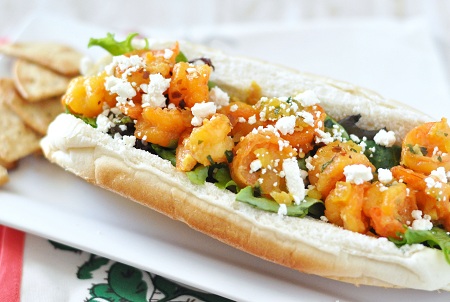 Shrimp Mozambique Po' Boy Sandwich (yield 6 servings)
Ingredients:
A heaping cup of shrimp mozambique*
6 Submarine rolls**
Handful of your favorite lettuces, per sandwich
A smattering of red pepper flakes***
1/4 cup crumbled feta ****
Directions:
1. Make the shrimp mozambique and set aside
2. Prepare the rolls by cutting them open lengthwise and place the lettuce in the roll.
3. Using a slotted spoon, add shrimp to the roll, shake on the red pepper flakes and top with the feta.
4. Eat this sandwich and let the happy eye-rolling begin.
*with very little liquid (or as much as you want for that matter).
**The best, freshest you can find.
***I have deemed 'smattering' to be a valid scientific term.
****Actually, use as much as you want.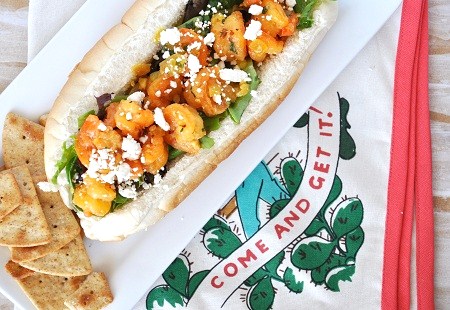 Are you drooling yet?