I want to please you. Yup, put a big smile on your face after a meal is what I want to achieve.
I want the kids to ask you to make this again soon and your friends be amazed by your creativity.
Do you think they would 'ooh' and 'ahh' if you offered Barbecue chicken and presented them with these crunchy babes?
My daughter loved it – I caught her most skeptical moment…then she ate everything on the plate…except the salad.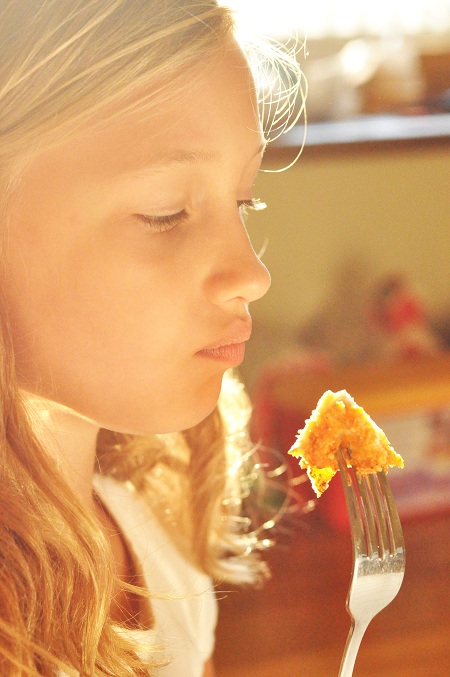 Barbecue (BBQ) Chip Crusted Baked Chicken (serves 4)
Ingredients:
2 ounces of barbecue popchips, crushed
2 large/thick skinless, boneless organic chicken breasts, split
2 tablespoons flour (AP or whole wheat)
1 egg, beaten
ground black pepper
Directions:
1. Heat the oven to 350º. Place the pop chips in a gallon size plastic storage bag and gently crush the chips (we used the heel of our hand followed by a rolling pin) but leave some small pieces for texture.
2. Place a cooling rack on a baking sheet and lightly spray the rack with cooking spray. Butterfly and cut each chicken breast in half lengthwise.
3. Create an assembly line of three bowls/plates: 1 plate with flour, 1 bowl containing the beaten egg and a plate with the crushed chips on them. Season the flour and egg with pepper.
4. Take each piece of chicken, lightly cover with flour and shake off the excess. Now dip the chicken in the egg and then coat each side with the crushed chips. Repeat for each piece of chicken.
5. Bake the chicken breasts until they are cooked through, about 15 minutes.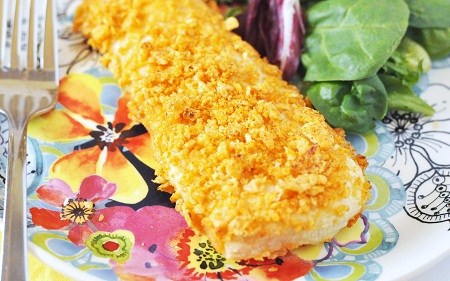 In case you prefer Salt-n-Vinegar chips, try this Salt and Vinegar Chip Crusted Baked Fish.