Obsession. Fixation. Desire.
All appropriate words to describe the reaction to the chocolate strawberry donuts (also know as duffins or monuts). Therefore, I decided to create a new muffin donut.
Today's offering is adapted from 'Healthy with Heather' as part of the Secret Recipe Club. Check out Heather's version called 'Lemon Blackberry Donuts' as the original is gluten free!
Go ahead and obsesses but no rabbit stew please.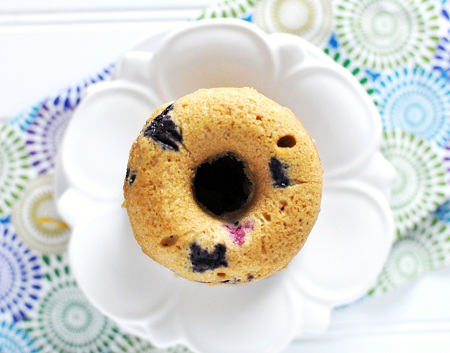 Citrus & Blueberry Baked Muffin Donuts (yield: 12)
Ingredients:
1 cup unbleached white whole wheat flour
1 cup unbleached all purpose flour
1 teaspoon baking soda
1/4 teaspoon baking powder
1/4 salt
2 eggs
3/4 cup brown sugar
1/4 cup canola oil
1/2 cup applesauce, no sugar added
2 tablespoon lemon juice
2 tablespoon orange juice
3/4 cup fresh blueberries
baking spray
Wilton donut pan
Directions:
1.Preheat oven to 350 degrees Fahrenheit.
2. In a medium bowl, whisk together flours, baking soda, baking powder, and salt; set aside.
3. In a separate bowl, beat the eggs and then add the sugar, oil, applesauce, eggs, lemon juice and orange juice until combined.
4. Add dry ingredients to wet and fold to combine. Fold in blueberries.
5. Spray each mold with baking spray and then fill each donut mold 1/2 full with batter and bake for 9-12 minutes.