You know the feeling right? Your open your eyes and your entire body feels heavy.
You think you have an extra dry throat but upon swallowing you know it is actually sore and burning.
You drink two cups of coffee to find you don't feel any more awake. That is my current state as I have the common cold.
On the plus side, I have a experience and inspiration to share with you: Last week I went to 'The Malted Barley' with my friend Kim. This bar sells various beers, wines, spirits AND baked pretzels.
From Parmesan to specialty sandwiches, I was beyond excited and torn about where to start. I asked the server for her recommendations and she said 'You have to try the jalapeno and cheddar' pretzels. From there you get to choose from the dips. She swore the apricot butter was the perfect pairing. We were skeptical but went with her recommendation.
The result? A-MA-ZING! The next day, I knew I had to make a version.
Did I say A-MA-ZING?
Jalapeno and Jack Cheese Stuffed Baked Soft Pretzels Recipe
Instructions adapted from Pillsbury.com
Ingredients:
1 can of Trader Joe's pizza crust
2 teaspoons cornmeal
A few ounces of hot pepper jack cheese (or use cheddar and chopped up jalapenos)
olive oil spray
a few teaspoons Parmesan cheese
Directions:
1. Heat oven to 425°F. Cover a large cookie sheet with unbleached parchment paper and sprinkle cookie sheet with cornmeal.
2. Sprinkle whole wheat flour over work surface. On the floured surface, unroll pizza crust dough; starting at center, press dough into 16×10-inch rectangle. With pizza cutter or knife, cut dough lengthwise into 4 (2 1/2-inch-wide) strips.
3. Cut hot pepper jack cheese slices into 1/2 inch slices and spread evenly on each dough strip, leaving 1/2 inch on each end uncovered.
4. Bring up sides of each dough strip over the cheese, and tightly pinch together, stretching dough as necessary to fully enclose cheese: pinch ends to seal.
5.  To make pretzel shape, form each log into U-shape, then cross the ends and fold dough over so ends rest on bottom of U-shape. Place pretzels on cookie sheet. Spritz each pretzel with olive oil spray and sprinkle with Parmesan cheese.
6. Bake 13 to 17 minutes or until pretzels are golden brown. Serve warm with apricot butter for dipping.
Measuring out the dough….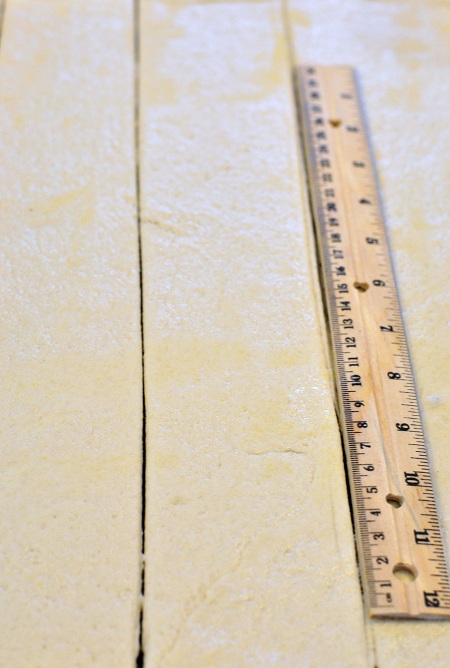 Adding the cheese – put more than this shows….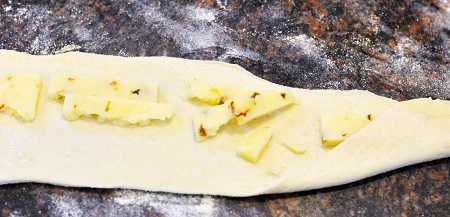 Seal the edges and make a U-shape…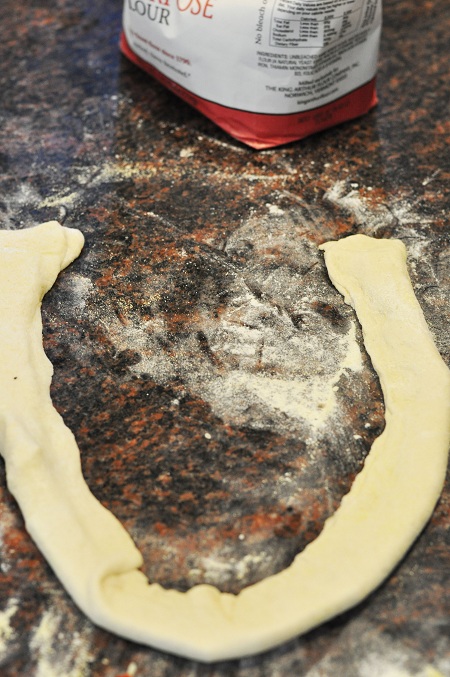 Cross one 'arm' down across….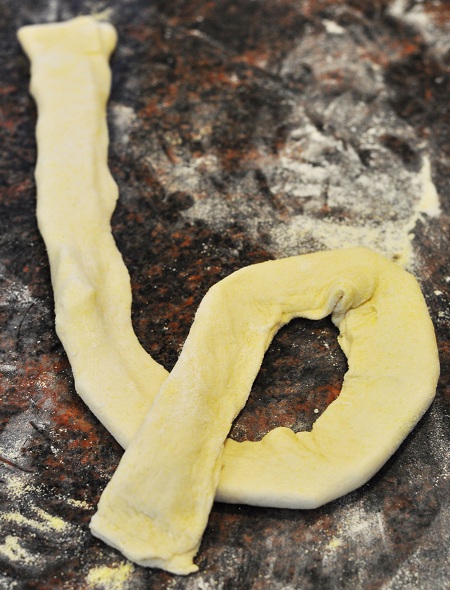 Repeat….
Spritz with olive oil spray and sprinkle on Parmesan cheese and bake…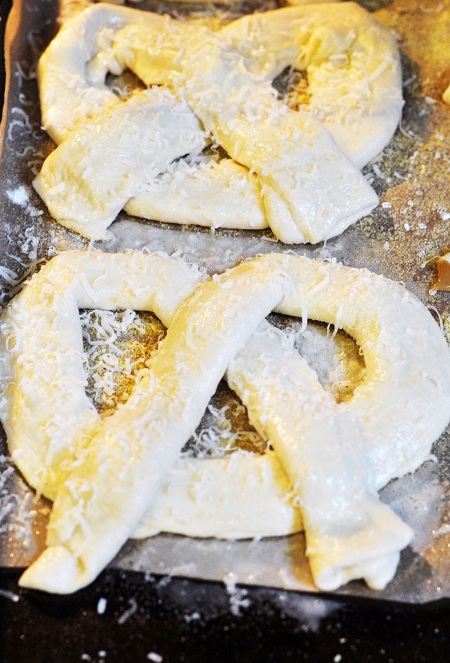 Oh, the Apricot Butter? You must come back tomorrow.