According to the Dictionary, this sandwich can be characterized as 'naughty', meaning mildly sinful. It is a perfect word for this sandwich. It was that good.
As I stared at the Udi's Gluten Free Cinnamon Raisin Bread today I was brainstorming for a unique recipe that was more breakfast driven. I thought cream cheese. Cream cheese and apples. Then I thought: 'Jen, think outside the box'.
Then I realized that nibbling on Cinnamon Raisin Bread made me also feel like I was having dessert. So, what would be a great breakfasty-desserty combination?
Shazam! Nutella & Apple.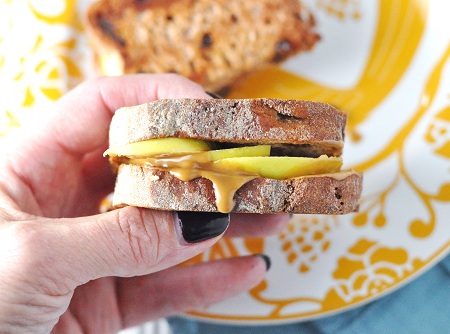 The Udi's Gluten Free Cinnamon Raisin Bread came into my possession, along with other amazing Udi's gluten free products, when they asked if I would give them a try. I had been wanting to try Udi's but hadn't since we don't need to eat gluten free products.
I am now a certifiable Udi's fan. So far I have devoured the lemon streusel muffins (well, the one I got from the kids) and I had a bagel this morning that was beyond. Just beyond.
Nutella & Apple Panini on Cinnamon Raisin Bread (1 sandwich)
Ingredients:
2 slices of Udi's Gluten Free Cinnamon Raisin Bread
1-2 Tablespoons of Nutella spread
1/2 organic apple, sliced (I used golden delicious)
Directions:
1. Turn on your panini press/indoor grill
2. Spead the nutella on one slice of bread and top with apples slices.
3. Heat on panini and devour.
Have you tried Udi's products? Which are your favorites?
Disclosure: I was provided with the Udi's products to sample and compensated for my time.