If there was a Salt & Vinegar anonymous, I would be the President of the group.
You already know I am a cheese-a-holic but I haven't told that I have been a Salt-n-Vinegar addict since I was 8 years old.
My Grandma used to hide a bag of chips for us in her sewing bag for we visited her – which was almost every weekend for many many years.
Luckily, these days I eat them infrequently but when I do, I want the entire bag which is why I am grateful for Pop Chips (air popped, not fried)
I was craving a lil S&V lovin a few days ago while planning dinner when it hit me: fish & chips.
YES, salt and vinegar fish and chips. SV crusted fish. It NEEDED to happen.
It happened.
Now, if your kids won't try fish when you tell them it is coasted with chips than I, I just don't what to say except maybe just don't point out that it is fish. Just say 'chips for dinner!'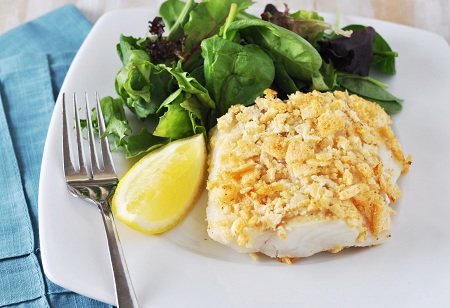 Salt and Vinegar Chips Crusted Baked Fish
Ingredients (serves 4)
Half a bag of salt and vinegar popchips
16 oz. fillets (4 oz per person) cod fillets, 1 to 1 1/2 inches thick
Pepper, for seasoning
2 teaspoons reduced fat mayonnaise
Directions
1. Heat the oven to 400º. Place the pop chips in a gallon size plastic storage bag and gently crush the chips (we used our the heel of our hands).
2. Line a baking sheet with a cooling rack and spray it lightly with cooking spray.
3. Combine the mayonnaise and a few dashes of pepper and then schmear (not smear) it over the top of each fillet. Now gently but firmly press on the crushed chips, completely covering the top of each piece of fish and place them on the cooling rack.
4. Bake the fillets until they are just cooked through, about 10-15 minutes depending on the thickness of the fish.
Dang Bird is trying to get some….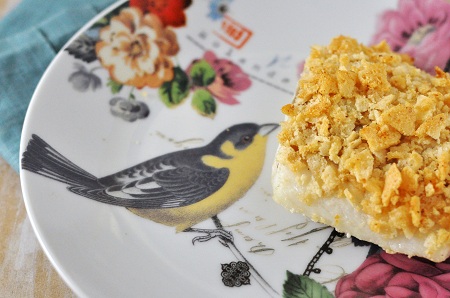 What is your favorite chip flavor?