September is one of my favorite months for a few reasons: I can still take my 'babies' to the beach after school as it is warm enough, the mornings have a crispness that puts a bounce in your step, the trees are preparing to lose their leaves and it is Whole Grain Month.
Yes, Whole Grain Month. In case you are from outer space, you know I am bananas obsessed with them (thanks for the phrase Rachel Zoe).
From salads to breakfasts to snacks to cookies, there are many delicious ways to incorporate whole grains into your daily foods. For instance:
*Pineapple Yogurt, Berry & Coconut Back to School Breakfast Parfait or The Best Triple Chocolate Chip Cookies or Quinoa Salad with Cranberries, Scallions & Orange Rind.
What? You adore whole grains as well? Let's celebrate then!!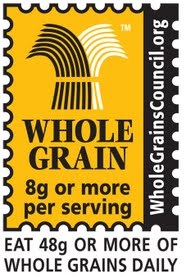 The Whole Grain Council is holding the Whole Grains Stampede Sweepstakes. The contest challenges you to visit the Whole Grain Council Website anytime in the month of September to highlight your favorite product bearing the Whole Grain Stamp (you know the stamp right? look up for a hint). 
Those of you who visit the site and participate are entered in a random drawing for ri-donk-ulously amazing prizes. The first prize is a year supply of Quaker Oats products and $5,000 of grocery money. The second prize is an Apple iPad 2 loaded with food apps. I will take both please!
Here is a list of all the products that proudly wear the whole grains stamp AND the official entry form. Good Luck!
P.S. make sure you read the rules cause it would be a stinker if you were disqualified or could not collect your prize.
Disclosure: I was selected by Quaker Oats to promote the Whole Grain Stampede during the month of September. I have been compensated for my contributions to the campaign; however, my opinions are entirely my own.
Now go eat some whole grains and thank me later.