Whoa, that title sounds all hoitie-toitie eh? Don't be thinkin' I am going all high-falutin' on you.
My daughter wanted to have some friends over for a tea so we needed to devise some 'fancy' foods.
Since my daughter loves feta, herbs, balsamic and cherries, I thought I would toss some fruit into the mix.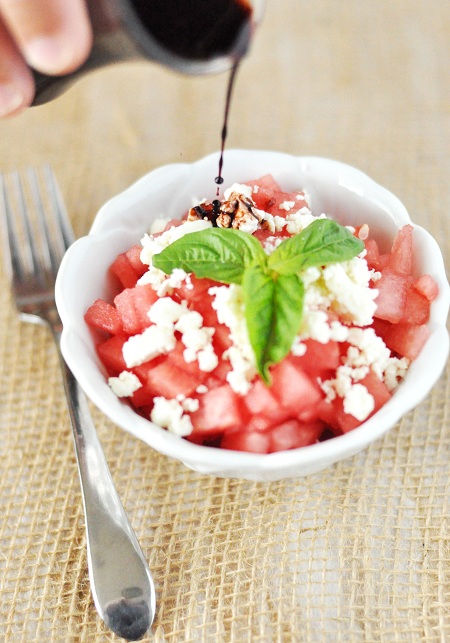 Watermelon, Feta & Basil Salad with Cherry-Balsamic Reduction (serves 4)
Ingredients for the Watermelon, Feta & Basil Salad
4 cups chopped watermelon
1/2 cup (or more) crumbled feta
Fresh basil, chopped
Cherry-balsamic reduction to taste
Ingredients for the Cherry-Balsamic Reduction
1 cup quality balsamic vinegar
10 large cherries, pitted and chopped
Directions:
1. Pour the vinegar and cherries into a non-reactive saucepan and heat over medium to medium high heat.
2. Once at a simmer, turn heat down to medium-low to maintain simmer and use a potato masher to gently mash the cherries. Continue to cook until the vinegar reduces to about a 1/3 of its' original volume. Mash and mix every few minutes. This process took about 20 minutes.
3. Combine the watermelon, feta and basil in a bowl and top with cooled reduction.
In pretty little shapes for the girls….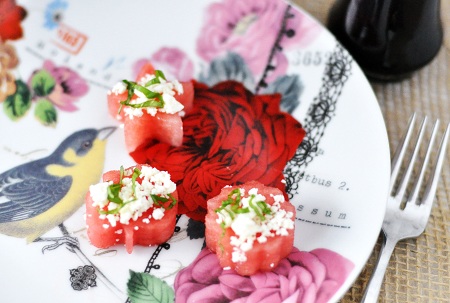 Are you excited for the fall season or hoping to hold on to summer?