I am a believer in efficiency. I enjoy being efficient but as many of us know, there are many outside forces that sometimes make it impossible.
In the name of efficieny, I set a goal that I was to not go to the grocery store more than twice a week. Sundays are the big shopping haul with all the basics and items needed for the meals I planned for the week. The other trip was to grab staples that run low or for the sudden recipe inspiration.
Apparently, I have been quite inspired lately as upon leaving the grocery store on Thursday, the cashier said "See you tomorrow Jennifer'. It took a second to register and then I chuckled.
Anyway, recall the breakfast at the Mansion I mentioned the other day? well, today I am sharing the frittata I was inspired to make along with the prelude* to the meal that I have kept a secret.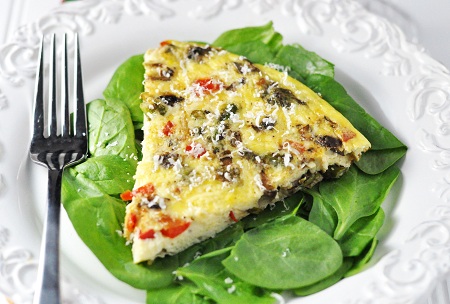 Asparagus, Mushroom & Red Pepper Frittata with Manchego Cheese
1/3 cup chopped asparagus, chopped into 1/4 inch pieces
1/4 cup chopped sweet onion
2 cloves of garlic, chopped
1/3 cup chopped red pepper
1/3 cup chopped mushroom
7-8 eggs, beaten
1 cup 1% milk
salt and ground black pepper
1/3 grated manchego cheese
1. Heat 1 tablespoon of olive oil over medium heat in a skillet in an oven-proof skillet. Add asparagus and saute for 3 minutes.
2. Add onion, garlic and red pepper and saute for 2 minutes.
3. Add mushrooms and saute for 2 minutes. Lower the heat to medium-low.
4. Beat the eggs and combine with milk. Slowly pour over the vegetables and let the eggs cook. Simply give the pan a slight jiggle every 2-3 minutes but no stirring.  Turn on the broiler.
5. Allow the eggs to slowly cook until only a small amount of egg is left uncooked on the top of the frittata (~ 10 minutes) and then place it on a low rack under the broiler. Watch the frittata carefully as just as the top begins to lightly brown, remove from the oven (mitts on please) and scatter the cheese over the frittata. Season if necessary.
Oh, pardon my manners for not offering you any. Here you go: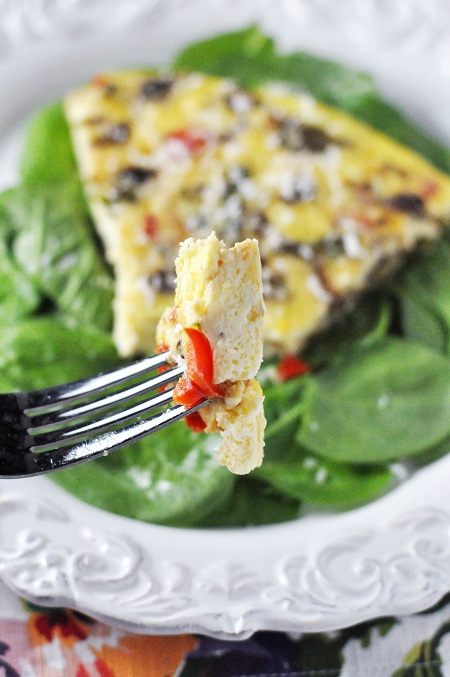 *The prelude = orange juice with a few drops of almond extract. Yum!