Yesterday was an incredible day! And I mean in addition to the we are healthy & grateful type of wonderful.
I headed to the store for a few supplies including fresh scallops for a special lunch. While I was at one store, a lovely woman I recognized from the preschool last year came up to me and said 'I have so much fun reading your blog and I eat the black bean breakfast tostada a few times a week.' It keep me full and I know it is good for me. I blushed, I did. I also had butterflies in my belly knowing that someone is making my recipes.
Then I headed to Panera Bread to grab an iced latte and this elegant older man came up to me and said 'I think your sunglasses looks amazing on you'. More blushing.
Next up was celebrating my husband's birthday with his niece and nephew and kicking some sand with them on the beach. Yes the beach. Was it cold? No, it was 80 degrees! Yes peeps, 80! You can tell we enjoyed the weather right?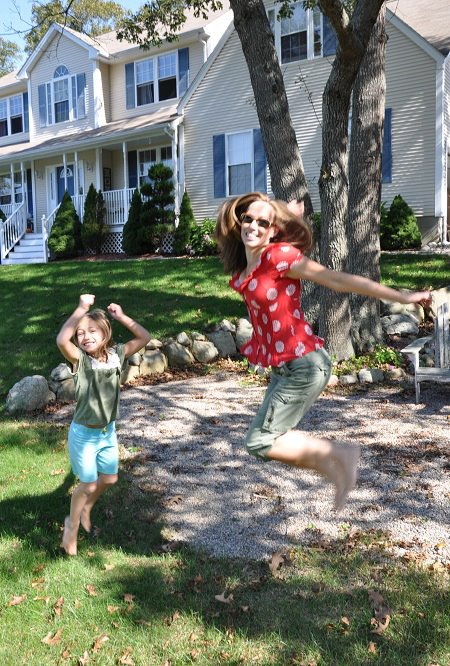 Guess what I made for lunch? Shrimp & Scallops Mozambique. Let's just say, those 20-somethings will be visiting more often. No, this recipe is not for the mozambique but it is for a salmon recipe I made the other day. It is so simple yet zingy and left me with plenty of time left in the afternoon to do some chillaxin with my babes.
Apricot-Almond Salmon (Yield = 4)
Ingredients:
3/4 cup apricot preserves
1/4 cup reduced sodium soy sauce
1/4 teaspoon garlic powder
1/8 teaspoon each salt and ground black pepper
1/2 cup whole or 1/3 cup slivered almonds
4 salmon filets (5-6 oz each)
Directions:
1. Place the whole or slivered almonds into a storage bag and crush them. Kids are quite useful and happy to assist in this step.
2. In a small bowl, whisk together the preserves, soy sauce, garlic, salt & pepper and almonds.
3. Place the salmon in the bag and toss gently. Lie flat in the refrigerator for a minimum of 30 minutes.
4. Preheat the oven to 350 degrees. Spray a baking dish with cooking spray and place the salmon filets flat in the dish. Set the marinade aside. Bake the fish for 20 minutes or so until cooked.
5. Remove the salmon from the oven and place on a platter. Pour the marinade from the storage bag into a small saucepan, bring to a gentle boil, stirring constantly for about 2-3 minutes. Pour over the salmon and enjoy.