I am expecting a phone call from the elementary school at any moment. This call will be regarding the language my 5 year old son is using in class today.
I expect the confusion to stem from the use if his word 'Shizing'. Let me share the conversation that occurred this morning:
On the way to school today, Ben announced 'Mom, I made up a new game called 'Shizing'. I said 'What did you say honey?'. He said 'Shizing'. I said 'shipping?' in hopes that I was misunderstanding him.
'No Mom! I said Shizing. I am going to play 'I am Shizing a brick today at school". Son and Daughter laugh. Mom is not laughing but not going to say why she is not laughing.
Awesome right? What you don't get it? Say it right now, out-loud and with a lisp and trust me, you will turn heads.
Since I needed some comfort as I await the inevitable phone call, I decided to make this dish. In order to get a real bang for your buck, buy a whole organic chicken and ask the butcher to chop it up for you.
I let the butcher keep the innards because I am thoughtful.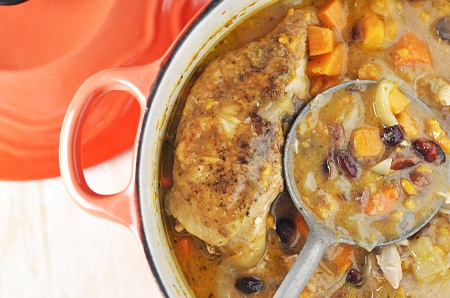 Braised Chicken with Sweet Potatoes, Carrots & Cranberries (Yield 4-6)
Adapted from everyday food
Ingredients:
1.5 tablespoons extra-virgin olive oil
4 chicken parts (legs, drumsticks, thighs) from a whole organic chicken (1 pound total)
sea salt and ground black pepper
1/2 teaspoon garlic powder
2 sweet potatoes, peeled and chopped into 1/2 inch pieces
3 large carrots, peeled and chopped into 1/2-1 inch pieces
1/2 large sweet onion, cut into wedges
3 tablespoons unbleached whole wheat flour
1 teaspoon dried sage
1/2 teaspoon dried thyme leaves
2.5 cups organic low-sodium chicken broth
3/4 cup dried cranberries
Directions:
1. In a large (4 qt or greater) enamel dutch oven, heat the olive oil over medium high heat. Season the chicken with salt, pepper and garlic powder. Add two of the chicken pieces, skin side down and cook for 5-6 minutes until the skin is browned. Flip and repeat. Cook the remaining two pieces and then set them aside on a plate.
2. While the chicken is cooking, you can prepare the sweet potatoes, carrots and onion. Once the chicken is removed from the pot, please add the sweet potatoes and carrots and saute for 3 minutes.
3. Add the onions and saute another 5 minutes, stirring often. Scatter the flour, sage and thyme over the vegetables, mix well and scrape browned bits off the bottom of the pot with a wooden spoon.
4. Turn the heat to high and add the broth, continuing to remove any browned bits. Add the chicken back into the pot and add the cranberries. Reduce the heat to low, cover and allow to simmer for 20-25 minutes until the chicken is cooked through.