Have you made a difference today? I mean a positive difference? It can be as simple as a smile, a hug or helping someone.
Yesterday, I joined my daughter and her Girl Scout Troop to take part in Make a Difference Day. We collected toiletries and other donations for a shelter for families in town. I was touched by the generosity and the smiles I saw on people's faces when they handed us their donation. It didn't matter if it was a quarter or an 8 pack of soap. They felt proud. I could tell.
While I stood there watching my daughter help it reminded me how sweet life can be. Naturally, thinking sweet made me think sweetness and so we scurried home and made some cinnamon scones.
Cinnamon Vanilla Scones
Ingredients (Yield 8 scones or 16 mini-scones)
1 1/2 cups all-purpose flour, spooned and leveled
3 tablespoons sugar
2 1/2 teaspoons baking powder
1/2 teaspoon baking soda
1/4 teaspoon salt
2 teaspoons cinnamon
5 tablespoons cold unsalted butter, cut into small pieces
1 tsp. pure vanilla extract
2/3 cup low-fat buttermilk, plus 1 to 2 tablespoons more if necessary
1/2 cup confectioners' sugar, plus 2 tablespoons
1-2 tablespoons milk
Directions:
1.Preheat oven to 400 degrees.
2. Line a baking sheet with parchment or waxed paper. In the bowl of an electric mixer fitted with a paddle attachment, mix together the flour, sugar, baking powder, baking soda, salt and cinnamon.
3. Add the butter into the flour mixture, and mix on low until just blended. Yes, the dough will be lumpy.
4. With the mixer on low, slowly add the buttermilk and vanilla, and stir until just combined; do not over mix.
5. Place the dough on a lightly floured surface and shape into an 8-inch round. Cut circle into 8 wedges or if you want mini-scones, cut each of the 8 wedges into 3 more wedges (but watch the baking time). Transfer to baking sheet, placing the scones a half-inch apart. Bake until golden, 18 to 20 minutes or 12-15 for mini-scones.
6. Once the scones are cool, combine the confectioner's sugar and milk with a fork. Drizzle over the scones. Shake on some extra cinnamon if you wish.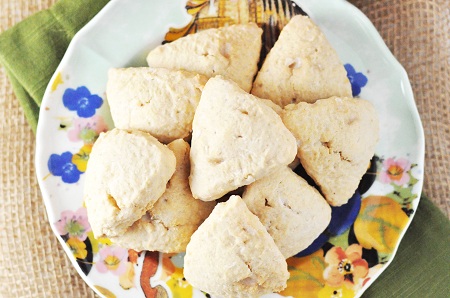 Yes, these are good for you in the sense they may result in family cuddles and warm tea.