You may not have noticed but I cook quite a bit. Oh, you did notice? Wonderful.
Many people assume I like to spend hours upon hours in the kitchen but guess what? that is not true. I like to be efficient in everything I do, cooking included.
Yes, I do take pride in nourishing my family and being in the kitchen is a part of that but I also like to have efficient products to help me speed up cooking and cleaning. Therefore, when Frigidaire asked me if I would take part in being a Test Drive Mom for the Frigidaire Gallery Symmetry Double Oven, I was on it like white on white rice. 
Some of the features that I am most looking forward to are:
*Symmetry Double Ovens – Two large ovens, each big enough to cook a 28-pound turkey, provide the flexibility to cook multiple dishes at the same time at different temperatures.
* Fits-More Cooktop – With five elements including two SpaceWise Expandable elements and a Warming Zone so you can cook more at once.
* Precision Set Controls – Adjust heat levels more precisely, providing exceptional temperature control.
* Quick Preheat – Preheat in just four minutes.
I am going to update you to each of these features over the next few months and put them through the 'Thyme Test'. Oh, come on….that's cute.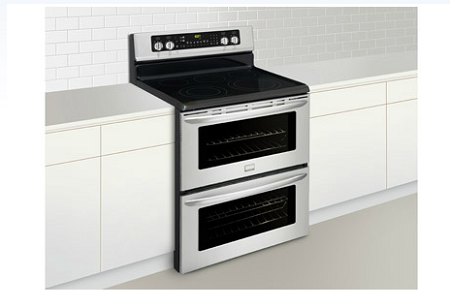 Disclosure: I wrote this review while participating in a Test Drive Campaign by Frigidaire and received a Frigidaire Range to facilitate my review.
p.s. The range arrives tomorrow – so excited!