Hold onto your hats, I have a major announcement to make: No, not this announcement, an even bigger one. Here it is folks: this recipe does not contain cheese.
Wait, don't leave. This recipe is a protein packed, good for you and a quick & easy powerhouse of goodness. After I exercise in the morning, I need something that will give me nutrients, protein and energy so I created this tasty wrap. You can use hummus, egg and toss whatever vegetables you have in the fridge, wrap and go.
Happy that you stayed?
See, just toss the veggies in there and  have fun. You won't hurt anyone.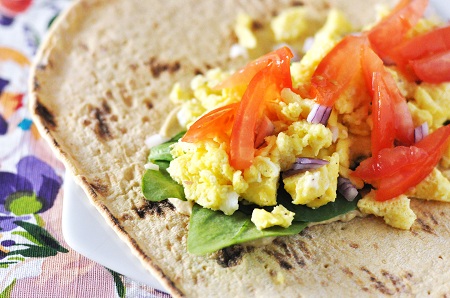 Hummus, Egg & Vegetable Breakfast Wrap Recipe (Yield: 1 wrap)
Ingredients:
1 organic egg, beaten
1 whole grain wrap
1-2 tablespoons hummus
6-8 baby spinach leaves
1/3 organic tomato, sliced
1 teaspoon red onion, minced
Directions:
1. Cook the scrambled egg as you normally do. Meanwhile, spread the hummus over the center of the wrap.
2. Prepare the other vegetables and toss them on top of the hummus. Top with the scrambled egg, fold the wrap and enjoy.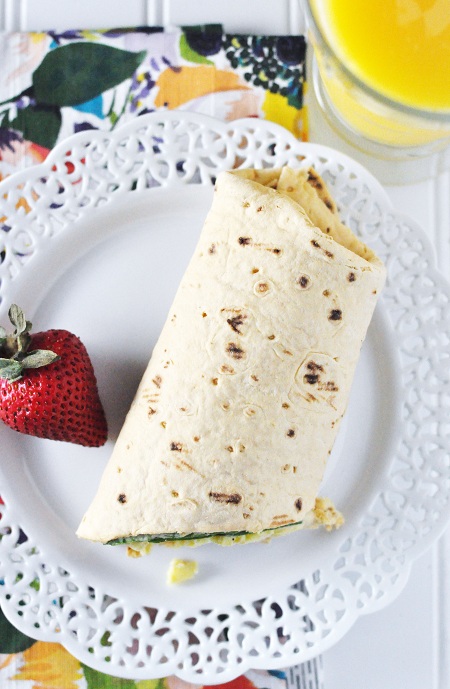 p.s. No, I did not try this with the kids yet because they are at school but my husband appreciated the wrap.