The saying goes 'You learn something new every day'. One day last week, I learned that I am a purist when it comes to the term 'seasoned'
I was out for dinner last week when I spotted this on the menu: 'Young green soybeans steamed and seasoned.' I instantly knew that is what I wanted to nibble on but for fun, I asked the server 'By seasoned, they mean salt and pepper right?'
He answered: 'sugar, salt and pepper' but then added that I could order them with no sugar. So for you, simply seasoned edamame.
Simply perfect, just like you. Unless you have anger management issues: Then you should get some help for that.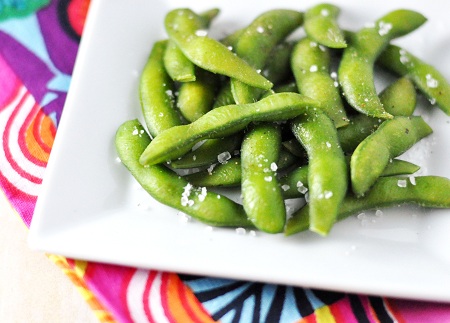 Simply Steamed Edamame (Yield: 4 snacks, if you care to share)
Ingredients:
8 oz. fresh soybeans in the pod
course salt/sea salt
fresh ground pepper
Directions:
1. Fill a large pot with an inch or so of water and insert a steaming basket/insert.
2. Place the soybeans in the basket/insert and bring the water to a boil. Steam the pods for about 5 minutes.
3. Remove the basket/insert and rinse the beans under cold water for just a few seconds. Drain.
4. Sprinkle with salt and pepper and consume.
And for all you nay-sayers out there: my kids love eating them as they 'accidentally' shoot some of the edamame out while 'trying' to eat them. Whatevs.