When it comes to cheese, I think the word 'mound' should be used often. A mound of cheese is a good thing.
You don't agree? too much fat? Then use a small mound.
Still too much? Then you have what I call 'cheese-uptightness'. You should do something to get rid of it because you will enjoy life more.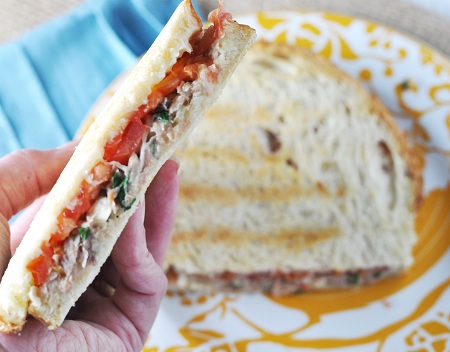 Tuna & Bean Melt with Tomato and Gruyere Cheese
Ingredients:
1/2 cup cannellini beans, rinsed
1/2 rib celery, roughly chopped
A few small slices of sweet onion
1 clove garlic
Small handful of parsley
2 teaspoons grapeseed oil or extra-virgin olive oil
1/2 tablespoons lemon juice
Salt and pepper
One 6-ounce can tuna in water, drained and flaked
1 tomato, sliced
A few ounces gruyere cheese, grated or shredded
4 slices of rustic bread
Directions:
1. Preheat the Panini grill. In a mini-processor toss together the beans, celery, onion, garlic, parsley, oil and the lemon juice. Pulse the ingredients together into a rough paste; Taste and season with salt and pepper.
2. Place the tuna in a bowl and gently combine with the bean mixture. Spread the mixture on two large pieces of bread, top with a few slices of tomato and the cheese and top with remaining piece of bread.
3. Place the sandwiches on the Panini grill, cover and cook until marked, about 2 minutes.