Yesterday, I had the honor of spending time with Sally Sampson, the founder of Chop Chop Magazine. My friend Niri, hosted an event at the Cambridge School of Culinary Arts to discuss healthy lunch box ideas, getting kids to try different foods and to enjoy some tasty recipes from the Fall edition of Chop Chop Magazine.
You may recall how excited I was when I first found this magazine so just imagine how much it makes me smile to see it succeeding. In fact, Sally and crew just got back from the White House!
You may also recall many of the tips I have shared on getting your kids to eat and my viewpoint on having tons of fun in the kitchen with your kids – trust me, keep that positive attitude and it will work. If not, have a glass of wine (who wrote that?), relax and try again tomorrow.
Some of the 'how do I get my kids to eat' ideas included:
*Get the kids in that kitchen: get them engaged and to be active participants. Let them make some of the choices and be invested.
*Think about texture – that is truly where kids sometimes get turned off by food (don't overcook those veggies).
*Take advantage of some of their particular food preferences and work in some other foods that way.
*Put some their favorites into their lunchboxes and have fun – there are no rules (well, besides the balanced diet thing) so go crazy…with good choices.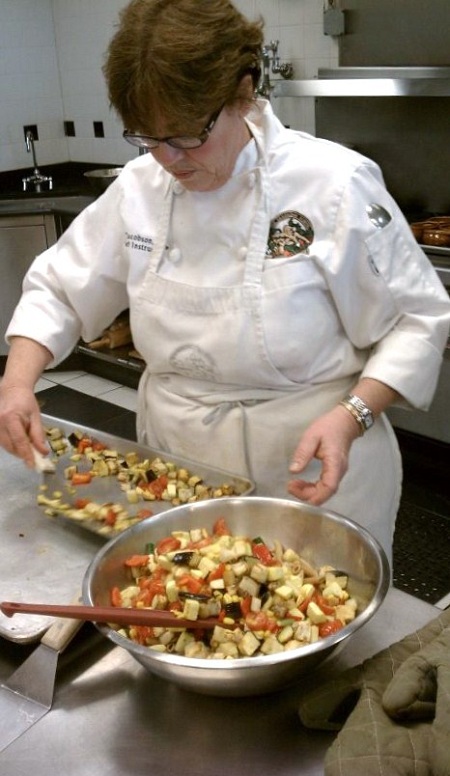 Chef Jacobson, chef instructor at the Cambridge School of Culinary Arts.
Carrot Apple Soup (Yield: 4 servings)
Courtesy of Chop Chop Magazine, Fall 2011
Ingredients:
1 tablespoon olive or canola oil
1 medium onion, peeled and chopped
2 pounds of carrots, peeled and sliced
1 apple, peeled, cored and chopped
8 cups of chicken or vegetable stock
1/2 cup Greek or plain low-fat yogurt
Directions:
1. Put the soup pot on the stove and turn the heat to medium. When the pot is hot, carefully add the oil.
2. Add the onion, carrots ad apple and cook, covered until the vegetables are beginning to soften, about 15 minutes. Use a slotted spoon to stir them occasionally while they cook.
3. Raise the heat to high, add the stock and bring to a boil. Reduce the heat to low and cook until the carrots are completely tender, about 20 minutes. Set aside to cool.
4. Use a slotted spoon to remove the solids and put in the blender or food processor. Process until smooth. Add the yogurt if you like and process again, then stir this mixture back into the soup in the pot.
5. Serve right away or cover and refrigerate up to 3 days.
Learn more about Chop Chop Magazine (trust me, it is great)…doesn't the Roasted Ratatouille look amazing? The recipe is in the Fall 2011 edition.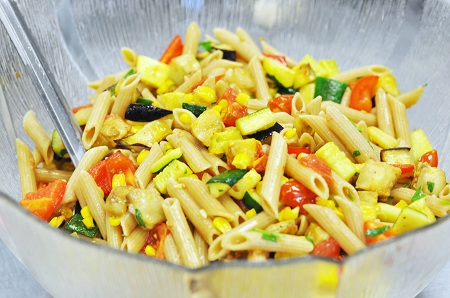 For dessert, Niri and I went to Starbucks. We have decided it is our personal mission to not leave any Starbucks unturned.