First of all, do not expect to have a dollop of sour cream today.
Yes, I realize that sour cream is often a nice accompaniment to soup but none for you today  as you had enough yesterday. However, I will grant you some bread.
This soup came about by necessity. Apparently the last two times I went to the grocery store, I felt the need to buy mushrooms and then not use them. Luckily, I shared this fact with the family and my daughter asked 'Will you please make mushroom soup Mom?' 'Yes, I will baby doll' was my reply.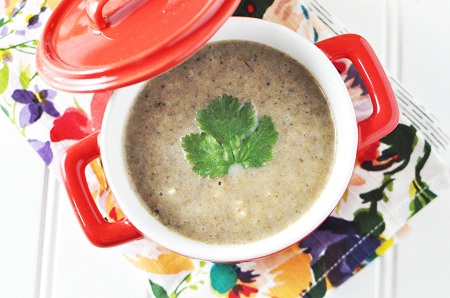 Cream of Mushroom & Barley Soup
Ingredients:
2 cups cooked pearl barley
1.5 tablespoon unsalted butter
1/2 sweet onion, chopped
2 medium-large cloves of garlic, chopped
2 stalks of celery, chopped
8 oz. white or baby bella mushrooms, chopped
4 cups low-sodium vegetable broth
1 tablespoon thyme, chopped
1/8 teaspoon paprika
1 cup 1% milk
Directions:
1. In a pot, cook barely per instructions on bag/box. Meanwhile, melt butter over medium heat in a separate large pot.
2. Add the onion and sauté for 2 minutes then add the garlic and sauté for an additional minute.
3. Add the celery and sauté for 2 minutes followed by the mushrooms and cook about 3-4 minutes.
4. Add the broth, thyme, and paprika and bring to a boil.
5. Reduce heat to low, cover and simmer for 20 minutes.
6. Add milk and once cooled slightly, use an immersion blender to puree the soup. You can also use a regular blender but do not fill it more than half-way and be sure the liquid is cool.
7. Either serve over the barley or mix the barley into the soup.