One of the perks of having a husband who works at home is that once in a while I can convince him to actually take a lunch break.
During such a break this week, I mentioned that because the afternoon was going to be really busy, now was the best time to make dinner and would he like to make something together? Then I specified that the dish needed to be chock full of Bush's Beans as our son Ben is crazy for beans and they are a part of this month's Kitchen PLAY event. Plus, they are dang good for you and we all need more fiber and nutrients in our diets!
Therefore, my husband and I began to brainstorm and he recalled a dish his Mom (you do recall the fabulous Portuguese Mom story right?) used to make that incorporated chicken, beans, tomatoes and pasta. This dish was a family staple that his Mom made once a week, each time incorporating different beans and seasonal vegetables.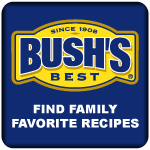 Portuguese inspired Chicken & Bean Stew
Ingredients:
2 teaspoons olive oil
½ sweet onion, diced
3 cloves garlic, roughly chopped
4-5 vine-ripened tomatoes cut into large chunks
¼ teaspoon each salt and pepper
2 skinless, boneless chicken breasts (3/4-1lb), cut into bite sized pieces
6 cups water or low-sodium chicken broth
½ lb pipette, elbow or pasta of choice
1 can Bush's Dark Red Kidney Beans, drained and rinsed
1 can Bush's Black Beans, drained and rinsed
Directions:
1. Heat a large pot and oil over medium heat and sauté onion and garlic until translucent.
2. Add the tomatoes, salt and pepper and sauté for 5 minutes. Then add 2 cups of water or low sodium chicken broth, reduce heat to low and allow to simmer for 15 minutes.
3. Meanwhile, chop up the chicken breasts. Increase the heat to medium, add chicken and cook for 20 minutes.
4. Add the remaining 4 cups of water or low sodium chicken broth, increase the heat to bring to a boil and add the pasta. After the pasta has cooked to package instructions, add the beans and remove the pot from the heat.
5. Let stand for 5 minutes before serving.