'It was the best of times, it was the worst of times'. This quote rings true around here the past few days however, I would not say the 'worst' but maybe 'not so great' and there aren't many quotes that say 'kinda sorta not great'.
Let's start with the best of times: today launches a fun campaign (well, two actually but just sharing this one for now) with Flatout Bread called 'Happy Healthy Holidays'.
Starting today, Flatout will be featuring three weeks of recipes, decorating and entertaining tips from women who are working to make their holiday season as happy and healthy as possible. One video tutorial and instructional post will be featured on Flatout Fresh each day (Monday-Friday) for the next three weeks, prepared just for you from one of these five fabulous females:
Our hope is that you gain at least one healthy holiday recipe, decorating and entertaining tip that appeals to all your senses. Exciting right? I know!!
Now, as far as the 'not so great', well, let's just say that my mom is going through a very tough time right now. She was looking a bit sad this morning so I said 'Mom, let's create something in the kitchen together. Something really yummy.' This is our creation – enjoy!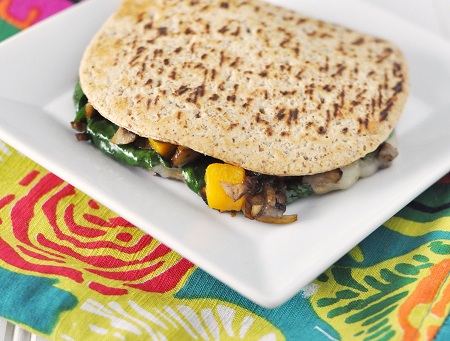 Roasted Butternut Squash Quesadillas with Mushrooms, Baby Spinach and Pepper Jack Cheese (4 servings)
Ingredients:
2 tablespoons extra virgin olive oil
4 oz mushrooms, roughly chopped
A few ounces of pepper jack cheese, shredded
1.5 cups roasted butternut squash (will post instructions later)
2 handfuls of baby spinach
4 Flatout Hungry Girl Whole Wheat with Flax Fold-it
Directions:
1. Heat the olive oil over medium heat. Add the mushrooms and saute for 4-5 minutes. Move the mushrooms to the side and place the flatout fold-it in the pan.
2. Scatter the cheese over the fold-it, top with mushrooms, squash, spinach and fold the other side of the fold-it over. Heat for one minute and then flip the quesadilla over.
Ohh….I know what you are thinking: Jen, I would love some sour cream on that…just a dollop. Well, who am I to deny you your dreams? Here is a dollop of light sour cream. Don't complain about it being light….it is good.