Someone once told me 'You fill every room with laughter and smiles'. I expect that this Thanksgiving leftover recipe for mashed potato pancakes will make you smile.
I also expect that smile to broaden when I tell you that you can also use up the leftover gravy by pouring it over the pancakes.
Oh, that made you laugh with excitement? Oh the joy!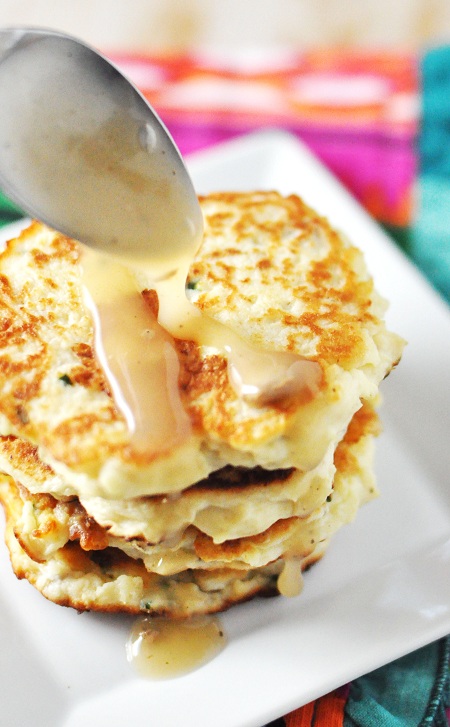 Leftover Mashed Potato Pancakes Recipe (Yield = 4)
Ingredients:
~2 cups mashed potatoes (consider the horseradish-sour cream recipe)
1 egg
1/3 cup whole wheat or AP flour
1/2 teaspoon garlic powder
3-4 chives, minced
salt pepper
2 tablespoons grapeseed or vegetable oil
salt and pepper to taste
gravy (or applesauce or light sour cream), optional
Directions:
1. Preheat the skillet and oil over medium heat.
2. Mix the mashed potatoes, egg, flour, garlic, and chives together in a bowl.
3. Pour ~1/4 cup of the mashed potato mixture into the pan and allow to cook until brown. Flip the pancakes and brown the remaining side.
4. Heat up the gravy and drizzle on top of the pancakes.
I bet you are looking forward to next year's leftovers.