A few weeks ago my aunt came to visit us and naturally, there is an interesting story related to this visit. The initial road trip from Louisiana to Rhode Island began in August but she never actually arrived here thanks to historic storms and floods.
This storm system caused her to get stranded in Pennsylvania and then turn around and return home. Once the trauma of that trip began to fade, she decided to fly up and spend Halloween with us. Before she booked the flight, she specified 'Don't let there be any freak storms or cold weather and no snow!' I replied 'Snow on October 27? no way, however, I cannot guarantee that it will not be cold. It is New England after all'.
So what do you think happened when I picked her up from the airport? It was sleeting and two days later we had a record setting Nor'easter. We bundled her up and stuck her in front of the fire place. She thought it was freezing cold (anything below 55 is freezing to a southerner) and was in awe of the storm, ice and snow. To be honest, we were lucky and just missed getting a lot of snow but even the dusting of snow that was left caused us to bundle her up and stick her on a sled.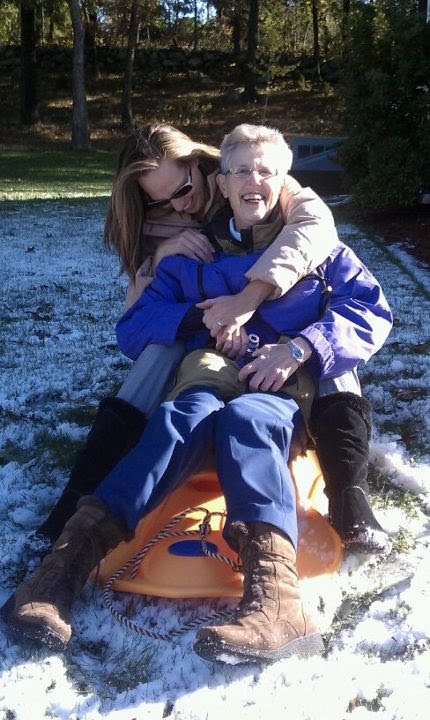 The kids were not as impressed but had fun with Aunt Janice and all the bundling up we did together.  We also began to crave good ol fashion comfort food so when Aunt Janice said she makes a mean mashed potato, our ears perked up.
She told us she makes her potatoes with horseradish and sour cream. We told asked her to get right to it. This recipe will now be a part of our Thanksgiving this year and we will eat it with warm memories.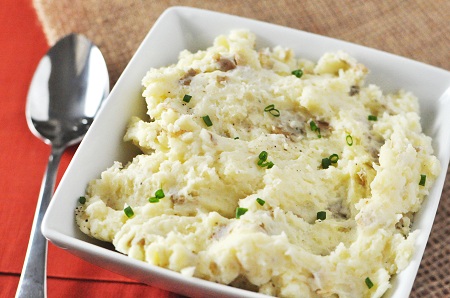 Mashed Potatoes with Horseradish and Sour Cream (serves 8-10 as side dish)
Ingredients:
5 lbs, russet or Yukon gold potatoes
1 cup light sour cream
2 tablespoons horseradish
2/3 cup 1% milk
Salt and group black pepper to taste
Directions:
1. Wash and dry potatoes. Chop the potatoes into 1 inch chunks, place into a large pot and covered with water. Bring to a boil over high heat then reduce to a simmer and cook until tender when pierced with the tip of a knife, about 20 minutes. Drain.
2. Heat the milk in a small pot over medium heat or in the microwave. Pour the milk over the potatoes and with a masher, mash the potatoes until smooth. Add the horseradish and sour cream, combine and season to taste with salt and pepper.
Our family wishes you the warmest and happiest of Thanksgiving. Tell me, what are you thankful for?
Disclosure: As a Mott's Mom, I am compensated for my time.
Mott's would love to hear from you : can't find a flavor of applesauce? want to tell them about your favorite Mott's product? Need to vent? 'Like their Facebook page and comment away!