We often get our family involved in community projects that help the less fortunate and do our best to make sure the kids understand how our service is meaningful.  We are constantly reminding them how fortunate we are: we have a home, plenty of food, clothing and each other.
Now that the holidays are fast approaching, I thought you might be thinking about ways you can give back this year for those less fortunate this holiday season. I wanted to let you know that The Salvation Army and JCPenney have teamed up again this year for The Angel Giving Tree Online Program.
The Angel Giving Tree Online Program that allows customers to adopt an 'angel' (a needy child or senior) and then shop for gifts for their angel this holiday season – a truly great effort to create positive change and give back this holiday season!  In collaboration with UPS, Angel Giving Tree gifts purchased through jcp.com can be shipped free of charge to a local Salvation Army collection center so you do not need to worry about the cost of shipping the items.
In celebration of the wonderful program, I am co-hosting a Twitter party Monday, November 14th from 7-8 p.m. E.S.T. at where we will talk about giving back during the holidays and give away JCPenney Giftcards!!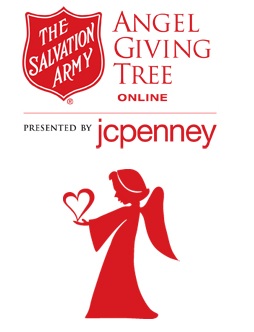 You should also know that:
*On Thanksgiving Day, jcpenney will donate $50 to The Salvation Army, up to $400,000, for every Angel adopted online — giving customers another reason to take advantage of Black Friday specials a day early on jcp.com.
*On Black Friday, jcpenney will donate $25 to The Salvation Army, up to $100,000, for every customer who uses Foursquare to check-in to a jcpenney store between 4 a.m. and 1 p.m.
To encourage nationwide support and participation, jcpenney will award the community with the most Foursquare check-ins on Black Friday with a celebratory shopping party to be held on Dec. 17. The winning store will host a food truck on-site complete with complimentary snacks and beverages to help energize time-strapped customers shopping jcpenney on the last weekend before Christmas.
For the first time you'll also be given the option to adopt angels in groups. Learn more about the program and to adopt an angel yourself.
Disclosure: I am receiving a gift card for my time and participation in the Twitter Party.