This is a Sponsored post written by me on behalf of Carapelli for SocialSpark. All opinions are 100% mine.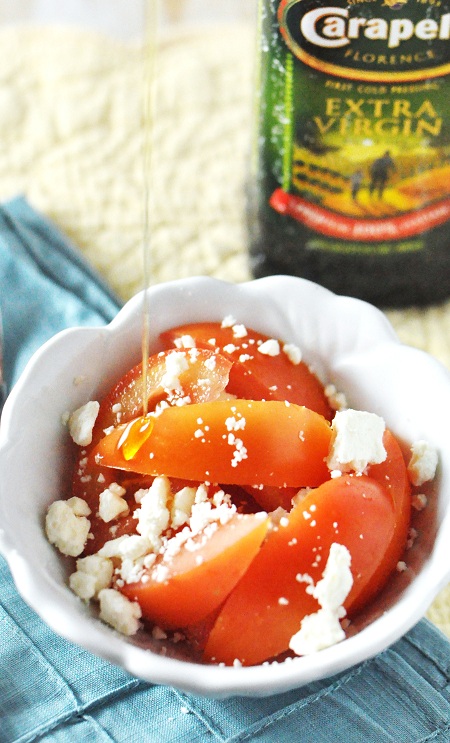 Everybody has their staples. Their 'must-haves'. In this house it consists of five things: I don't need to list them do I? Alrighty then: A quality olive oil, A quality extra virgin olive oil, a quality balsamic vinegar, ketchup and cheese (this information should not be a surprise to regular readers).
If my daughter was typing this, should would also include tomatoes and feta. Her favorite way to eat them is with extra virgin olive oil and with balsamic vinegar. I also use plenty of extra virgin olive oil in my recipes (go ahead and search on it) including making my own vinaigrette so I am particular about the oil and its' flavors. Therefore, when Carapelli asked me to taste test their extra virgin olive oil, I said: 'overnight it peeps.'
Similar to tasting wine, there are a few quick steps to having the true olive oil tasting experience (who knew right?!). Pour about a tablespoon of olive oil into a glass and gently warm it by covering the glass with one hand and holding the bowl of the glass in the other.
Here's where the four S's come in – Swirl, Sniff, Slurp and Swallow
1. Swirl – By swirling the olive oil in your glass, you release the oil's esters, which are the molecules that contain the aroma.
2. Sniff – Now inhale deeply. The aroma is the key to the fruitiness of the oil. Is it intense or is it more subtle?
3. Slurp – Sip the oil while "sipping" in a bit of air. This slurping action emulsifies the oil and helps spread it throughout your mouth. Take note of the various tastes and sensations. Is it fruity, peppery, smooth?
4. Swallow – Once you swallow the oil, it should leave your mouth with no aftertaste.  Again, take note of any peppery or stinging sensation in your throat.
I am glad I performed this taste test for two reasons: 1. It educated me to the four S's and 2. Reinforced the importance of a quality olive oil.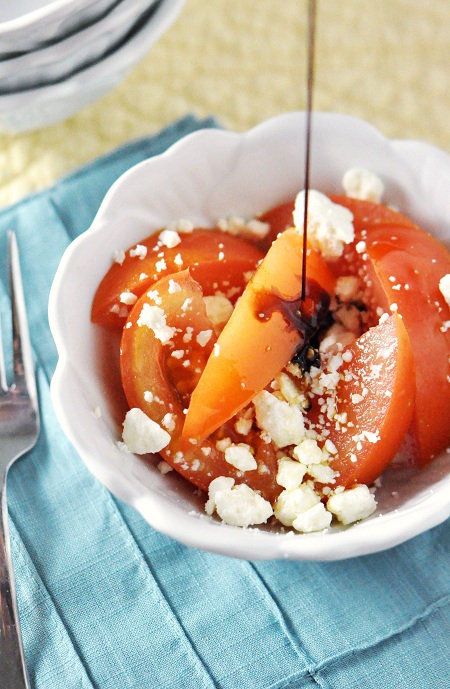 Tomato Feta Salad Recipe (serves 1)
Ingredients:
1 organic tomato, cut or chopped
1/4 crumbled feta (fine, use less if you must)
1 teaspoon extra virgin olive oil
1 teaspoon balsamic vinegar
Directions:
Combine all in a bowl, toss well and enjoy.
$1.00 OFF coupon at www.CarapelliUSA.com