I have a guilty conscience. You do too? I bet yours is over too much peppermint bark and too many thumbprint cookies. Am I right? I knew it!
Well, it is almost time to start fresh as the end of 2011 is approaching and many of us begin to set New Year's Goals & Resolutions. For most of us, the resolutions may include 'eat healthier' or 'take better care of myself' so I figured I would help you out with cleansing your body with a no-guilt salad.
Baby Arugula with Roasted Squash, Beans, Pumpkin Seed & Cranberry Salad (yield = 4-6 as a side dish)
Ingredients:
3 handfuls or 3 cups of baby arugula salad mix
1/2 roasted acorn squash, cubed (follow directions here but only roast with olive oil)
8 oz. cannellini beans, rinsed and drained
1/3 cup salted pumpkin (pepita) seeds
1/2 cup dried cranberries
1/3 cup crumbed feta
Directions:
Combine everything in a large bowl, toss well and serve with your favorite dressing.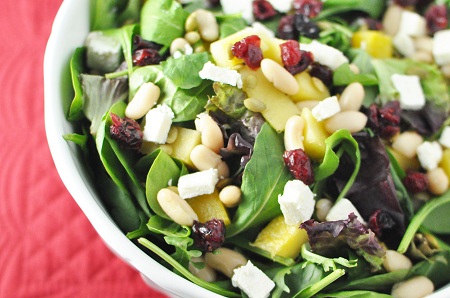 Did you notice that this post included chit-chat about New Year's goals AND that this is a gluten-free recipe? Join me on Wednesday, December 28th at 9 p.m. e.s.t. for the latest Udi's live chat to discuss 'Making goals for 2012!