I have gone a bit Martha crazy. Between the new line at Home Depot and the continuing expansion at Michael's crafts, I am a happy girl. I am one of those people who wishes I was innately crafty but really needs a kit and instructions to make a fabulous creation.
Last night I packaged up some bark in some lovely boxes and used the glitter pens to address the labels. Don't fuss, you will get the bark recipes tonight and tomorrow!
From Michael's crafts I have: the double-edge pine needles trim punch and the custom stamp setting kit which I am using to make custom labels for the gifts for adults. I will be using some scrap-booking paper for food photos and a memory book.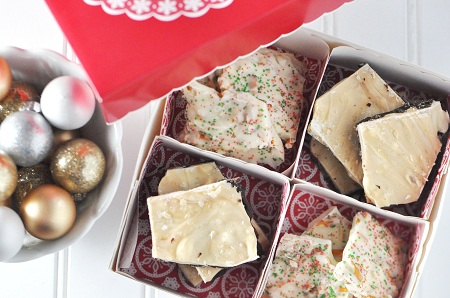 From the Home Depot Woodlands Collection, we have the Owl ornaments, a wreath and the crystal C5 lights. I love that the ornaments are shatterproof cause nothing makes a mom shutter more when it comes to decorating the tree than dropping a glass ornament. Those dang shards go everywhere and you will find pieces for days.
Off to be more crafty….by the way, these are for you: