There are times in your life when you face some big challenges and that is when your family needs to gather their strength and pull together. It is one of those times in our family right now and one family member that we have gotten closer to lately is my Aunt.
Since Mott's asked me to share something that's 'important to you' this month as part of the ongoing Mott's Mom campaign, I knew exactly what I wanted to share: I know for sure that it is very important to spend quality time with family and friends and to be grateful for their presence.
Do you recall when I introduced you to my Aunt back in November and her mashed potato recipe? During her visit we spent some time talking about my grandmother and reminiscing about old recipes. Upon her return to Louisiana, she photocopied some of grandma's recipes and mailed them to me (yes, snail mail still exists). It has been a bit emotional as I make each recipe and reflect on the memories of my childhood.
One of my Grandmother's recipes that my aunt sent was for Pfeffernusse (my side of my family is of German decent), which some refer to as a German peppermint, "pepper nuts" or spice cookie. Give them a try – kids love doing the confectioner's sugar part so prepare to be dusted.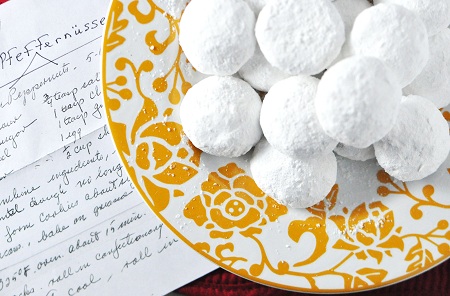 Pfeffernusse (yield = 5-6 dozen)
written by Grandma Frosch
Ingredients:
3 cups sifted flour
2/3 cup brown sugar, firmly packed
1/4 teaspoon pepper
3/4 teaspoon salt
1 teaspoon cloves
1 teaspoon ginger
1 egg
1/2 cup shortening
confectioner's sugar
Directions:
1. Preheat the oven to 325 degrees F. Combine ingredients (except confectioner's sugar), knead together until dough no longer clings to hands.
2. Form cookies to size and shape of pecans (I made small round balls). Bake on greased sheet (I used parchment paper) for about 15 minutes.
3. Cool on racks for a few minutes until your can handle them, roll in confectioner's sugar. Allow to cool completely and roll in the sugar again.
What are some of your favorite cookies or family recipes?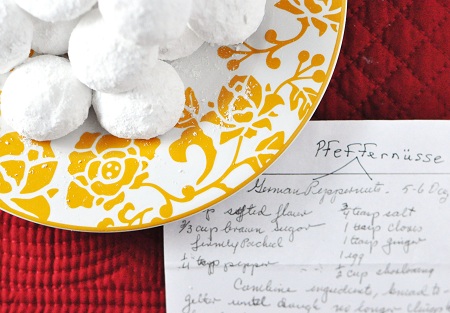 Disclosure: As a Mott's Mom, I am compensated for my time.