I have a vivid image to this day of what occurred one afternoon in July 2009: I was attending my first Blogher conference and for whatever reason, I was having a really tough moment so I stopped off into a lounge and was sitting on the floor fiddling with something. I must have looked quite flustered as suddenly I looked up and saw this lovely woman and she said something like 'Do you need help?'
Her simple gesture and willingness to stop and show concern, made me smile and float through the rest of the day. This lovely woman was (and is) Anne-Marie Nichols and since that meeting, our friendship has grown.
Imagine how happy I am that she is moving much closer to me soon. Thank You Anne-Marie Nichols for being you and for being my friend. MUAH!
Without further ado, 10 Things You Didn't Know About Me with Anne-Marie of This Mama Cooks….

1. Chicken on pizza, in a quesadilla or in pasta skeeves me. Blech!
2. I'm older than I look.
3. I have a motorcycle license. Not that I remember how to drive a motorcycle. (Never learn a new skill when you're pregnant.)
4. I'm an art school dropout.
5. I have a journalism degree.
6. I grew up on the Jersey Shore and in San Diego.
7. I have a sister named Michele and many friends named Michelle. Sometimes I accidentally spell my sister's name with two L's and she gets mad at me.
8. I can never remember my exact wedding date. And neither can my husband. A little weird since we've been married for almost 18 years.
9. I grew up eating snails, oysters and pate. Blame my French mother.
10. I grew up eating borsch, chopped liver and blintzes. Blame my Jewish father.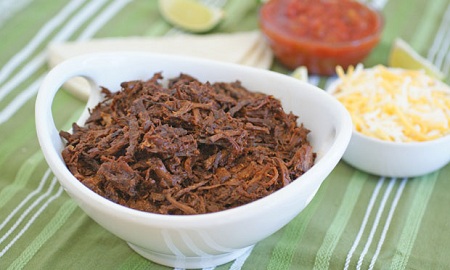 Slow Cooker Mountain Goat (yield 9-12 servings)
Ingredients:
1 14 ounce can tomato sauce
3 chipotle chiles in adobo, finely minced
1/2 cup cider vinegar
1/4 cup agave nectar
1 tablespoon plus 2 teaspoon smoked or regular paprika
2 tablespoons Worcestershire sauce
3 teaspoons dry mustard
1 tablespoon chili powder
1 teaspoon salt
3 pounds mountain goat meat – chops, steaks, roast, etc.
1 medium onion, chopped
3 cloves garlic, minced
Directions
1. Stir tomato sauce, chiles, vinegar, agave nectar, paprika, Worcestershire sauce, mustard, chili powder and salt in a 6-quart slow cooker to combine.
2. Add mountain goat, onion and garlic and stir to cover meat thoroughly. Put the lid on and cook on low until the mountain can be pulled apart – at least over night if not nearly a full 24 hours. Check often to make sure it's not getting dried out. If the liquid levels are getting low add some water, broth or more tomato sauce.
3. When done, shred mountain goat with a fork right in the crock. Stir well then serve.
Be sure to stop by This Mama Cooks and tell Anne-Marie that I sent you!