I am sick. Maybe it is a cold with massive chest involvement or maybe bronchitis. No matter the diagnosis, I still found myself hungry late last night when the Nyquil decided not to work.
I did not want something heavy but I wanted it to be easy. I wanted toast but naturally, the only bread we had was frozen. Ugh.
I hit the pantry and then scoped out the miscellaneous veggies in the crisper. To be honest, I did not whisk the liquids and the mustard together but I told you to below….if you feel like it. If you are sick, don't bother. If you are too sick to make this, just heat up some soup but trust me, this is good and full of nutrients.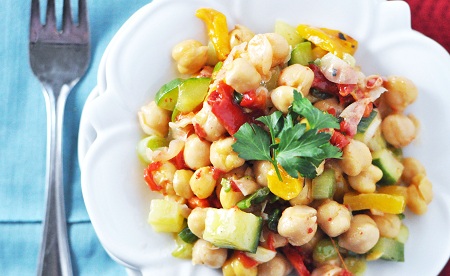 Vegetarian Chickpea Salad Recipe (serves 4)
Ingredients:
1 can of canned chickpeas, rinsed
1/2 cucumber, chopped
2 scallions, minced
A few jarred roasted red pepper slices, chopped
1/2 yellow pepper, chopped
small handful of fresh parsley, minced
3 tablespoons lemon juice
3 tablespoons red wine or rice wine vinegar
2 tablespoons olive oil
1 tablespoon Dijon mustard
salt & ground black pepper to taste
Directions:
1. Rinse the chickpeas and set aside to drain.
2. Meanwhile, prepare the cucumber through parsley and mix together in a bowl.
3. Whisk together the lemon juice through mustard, pour over the vegetables, add the beans and toss. Season to taste.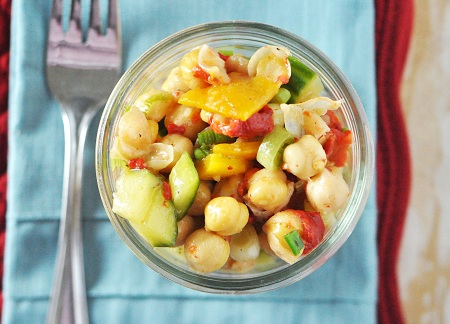 How are you feeling today?