The other day I let you have some pancakes, and then I challenged you to improve your backside. Now I aim to increase your fruit intake.
Stop whining, I won't ask you to pick up and 'eat' a piece of fruit (but you should); I will let you pull out the new blender you were gifted for Christmas and blend yourself a frothy concoction that is an easy peasy breakfast, lunch or must-put-something-in-belly-now-or-will-make-bad-choices dinner.
This smoothie was created because there was a half-used container of non-fat plain Greek yogurt and 2 pieces of pineapple in the fridge. See: yummy, healthy and frugal!
Oh, speaking of healthy, I was a guest on the fabulous Social Women talk show this week – you need to listen to this fabulous show and be inspired.
Look into my bubbles….the kids (and yourself) will be mesmerized by the 'shake' so serve it to them and then ask them to guess which fruits are in there!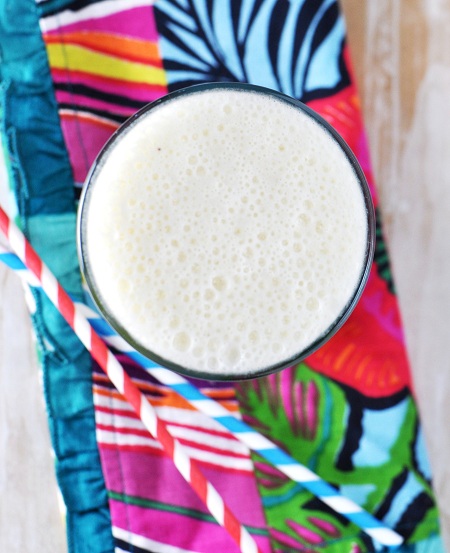 Frothy Pineapple, Banana & Yogurt Smoothie
Ingredients:
3/4 cup 1% milk
3 oz.  plain non-fat Greek yogurt
1 ripe banana
a few pieces of pineapple
ice cubes
Directions:
1. Place all ingredients into a blender, cover and pulse on ice crush.
2. Switch to the blend or puree function and create a frothy smoothie.
Have you tried a 'green' smoothie?