One of the highlights of 2011 was working with some lovely food bloggers at Babble's The Family Kitchen.  One of the women I worked with was Stacie who seemed as sweet as pie and to be a real whipper snapper online.
Luckily, my impression of her was spot-on as I was able to meet her at Blogher Food in Atlanta and from that day forward I was smitten (don't tell her though as she may equate smitten with stalker). Read below and I bet you will become smitten as well.
Without further ado, 10 Things You Didn't Know About Me with Stacie Billis of One Hungry Mama….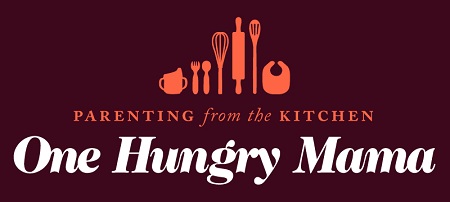 1. I have an unhealthy obsession with the Housewives series—all of them (well, except for Atlanta).
2. I want to raise sheep and learn how to make sheep's milk cheese when I grow up.
3. I have a secret addiction (that I work hard to keep in check… most of the time) to trashy, sugary cereal. I know, I know!
4. Before having kids I worked in creative development at, among other places, Sesame Workshop. In other words, I helped make cartoons! And, yes, it was a ridiculously fun job.
5. Burps gross me out, but farts make me laugh!
6. Before deciding on graduate school for child development, I seriously considered culinary school (of course) and trying to become a set designer in film because I LOVE the movies so, so much.
7. I'll kick your butt in Scrabble.
8. I can dance the night away and karaoke til the wee hours. Not necessarily in the same night, though it can be!
9. I've been to 15 countries and have a must-visit list a mile (and a half) long.
10. I was a vegetarian for nearly seven years and returned to meat-eating, after all that time, by digging into a monster osso bucco. What can I say, I was ready to eat meat again!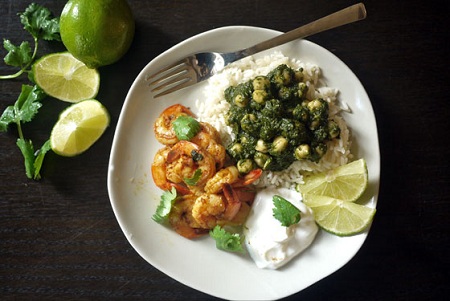 This recipe is a go-to these days. It's quick, easy, nutritious (spinach + chickpeas = power food!) and uses frozen spinach which is easy to find all year around.
Chana Saag (Indian Chickpeas with Spinach)
serves 4-6 (can be shared with kids 6+ mos)*
Ingredients:
2 10-ounce packages frozen spinach, defrosted
1 cup chicken or vegetable broth, plus more to taste
1 tablespoon salted butter
1/2-3/4 teaspoons minced (or grated) fresh ginger
1/2 teaspoon finely minced fresh garlic
1 teaspoon garam masala
1/2 teaspoon ground cumin
1/2 teaspoon ground coriander
1/2 teaspoon curry powder
Freshly squeezed juice of 1 lemon
2 15-ounce cans chickpeas
Salt and pepper, to taste
Directions:
1. Combine spinach (don't include any water that's drained out of the spinach, but you don't need to squeeze the spinach either) and your preferred broth in a powerful blender or food processor and pulse until smooth. Set spinach puree aside.
2. Heat butter in a medium pan over medium-low heat. As soon as it melts, add the ginger (1/2 teaspoon for a more mild ginger flavor; I use 3/4 teaspoon for a stronger flavor) and garlic. Cook until fragrant, about 1 minute. Add garam masala, cumin, coriander and curry powder. Toast the spices for 3-4 minutes, until they are fragrant and take on a deep color. If the garlic begins to brown or the spices darken quickly, lower your heat. This is a gentle process to ensure that your ground spices release their oils and keep from imparting a powdery flavor. (This dish will taste significantly better when made with fresh spices.)
3. Add spinach puree to the pan, along with the lemon juice. Cook for about a minute, to bring the flavors together, then add the chickpeas. Continue cooking until the chickpeas are heated through and all of the watery liquid cooks down leaving a puree (with a consistency like baby food). Add more broth if you end up needing to make adjustments to the consistency. Taste and season with salt and pepper. Suggestion: serve with rice.
*Note: Be sure to mash or puree the chickpeas into the spinach for babies not yet managing larger chunks.
Be sure to stop by One Hungry Mama and tell Stacie that I sent you!