Well, it finally started getting all wintery around here. No real snowfall since October (?!) but it is chilly now. You know what chilly means right?
Yup; wool socks, warm baths, a heating pad to preheat my sheets and comforting but guilt-free soups.
Want a slurp? Heck, have an entire bowl.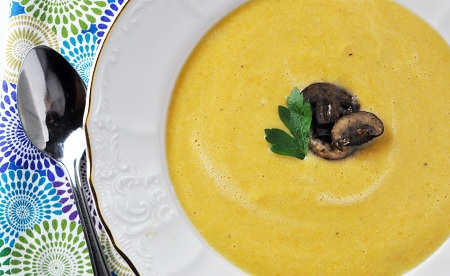 Parsnip Butternut Squash Soup Recipe (Yield = 7-8 cups)
Ingredients:
1 tablespoon extra virgin olive oil
1/2 sweet onion, chopped
2 stalks of organic celery, chopped
2 large cloves of garlic, peeled and chopped
1 lb. of peeled and seeded butternut squash, cut into even chunks approx. 1/2 inch
2 large parsnips, peeled and coarsely chopped*
4 cups of organic low-sodium chicken stock
1/2 cup 1% organic milk
1/2 cup half-n-half
Sea salt and freshly ground pepper, to taste
Directions:
1. Heat the oil in a large pot over medium heat. Add the onions and celery and sauté, stirring frequently, for 4-5 minutes.
2. Add the garlic and saute 2 additional miniutes. Add the squash and parsnips and cook for another 3-4 minutes.
3. Add the chicken stock and bring to a boil. Reduce the heat to low and simmer for 20-25 or until the squash and parsnips are soft and easily pierced with a fork.
4. Remove from the heat, allow to cool a few minutes. Add the milk and half and half and puree using either an immersion blender or you can use a blender. To use a blender: transfer it in 2 cup batches to the  blender, puree and pour into a bowl. Repeat the process until all of the soup has been pureed.
5. Add salt and pepper to taste and serve.
*Note: this is a great way to introduce your carrot or soup loving children to parsnips – tell them about half-way through the 10th spoonful when they have already declared their love for the soup.