Sometimes blogging seems like a big wide world and other times, it seems small. One day, I was searching online for food blogs in Rhode Island and Connecticut and found 'Fix Me A Snack'. I liked the blog and connected via Twitter with Cindy, the smart as a whip mom who runs the blog.
Cindy and I do not live too far away from each other yet did not meet until we both attended Blogher Food in Atlanta. Small World eh?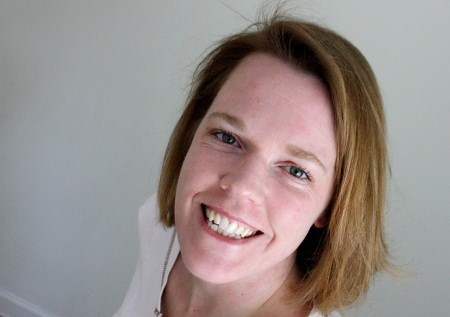 Without further ado, 10 Things You Didn't Know About Me with Cindy Rowlands from 'Fix Me A Snack':
1. I don't use unwrapped restaurant straws. One of my first jobs as a teenager was at a burger joint and the guys who cleaned up on the night shift used to lick all the straws in the dispenser and put them back in again.
2. My favorite music to clean house to is early Prince.
3. Once upon a time, I was a relatively picky eater.
4. My favorite song as a child was "Yellow Submarine" by the Beatles.
5. Lately, my family can't get enough of old Swedish Chef clips on You Tube.
6. Celebrities I have spotted: Joel Higgins (father from Silver Spoons), Spike Lee, and Ted Danson.
7. I live on a hill in Connecticut with my husband, two daughters (8 and 5), dog, two cats, two hens (Rhode Island Reds!), and one very large fish tank.
8. Our only real family tradition is to celebrate half birthdays by making a half-circle shaped layer cake and letting the birthday girl pick what we'll be having for dinner.
9. My favorite kitchen gadget is an old-fashioned eggbeater.
10. One of the many unforeseen benefits of having children is reading children's literature that passed me by when I was little. We're currently reading Anne of Green Gables and I am in love. If you haven't read Phantom Tollbooth, go out and buy a copy right away!

Pizza on a stick (Yield = varies)
Prep-time: 10 minutes or longer if the kids are assembling
Slices of pepperoni
Chunks of mozzarella string cheese
Canned sliced black olives
Grape tomatoes
Thread pepperoni, cheese, olives, and tomatoes onto bamboo skewers. Serve.
*Note: I'm guessing bamboo skewers should not be put in the hands of most children under the age of 3, possibly 4. I cut off the pointy tips after assembly. A safer option might be lollipop sticks; pre-punch holes in the food and let the younger ones assemble on their own.
Be sure to stop by Fix Me A Snack and tell Cindy that I sent you!