Lookie here, I know to most peeps the following equation holds true: Superbowl + Finger Food = seriously unhealthy Party Food. Well, I am here to tell you that most of us still need some stick to yo' bones food and there is no way that I would believe that anyone would say no to chili.
If they don't send them my way and I will help set them straight.
I can not take any credit for this recipe except for the fact that I had a super pretty large bowl of Bison Bolognese sitting in the fridge. My husband came down to the kitchen at lunchtime and after a few minutes of rummaging around in the fridge declared "I am making something for dinner with this Bison". My response was 'Go for it!"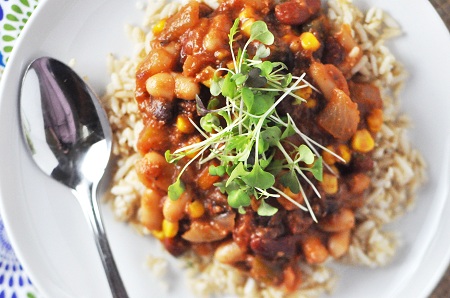 Slow Cooker Bison Bolognese Chili
Ingredients:
4-6 cups of Bison Bolognese
1 teaspoon olive oil
1 green pepper, chopped
1/2 sweet onion, chopped
2 15 oz. cans canellini beans, rinsed and drained
1 15 oz. can kidney beans, rinsed and drained
1 15 oz. can black beans, rinsed and drained
2 cups frozen corn
Handful chopped fresh parsley
2 tablespoons wet crushed red pepper, optional
Season to taste with salt and pepper, optional
Directions:
1. Place the Bison Bolognese or your favorite meat sauce into the slow cooker.
2. Heat the oil in a pan over medium heat and briefly saute the peppers and onions until softened.
3. Add the peppers, onions, and remaining ingredients through red pepper and set the slow cooker to 4 hours on low.
4. Taste and season if necessary.
Do you prefer your chili with meat or vegetarian?