It happened this past Sunday about an hour before the AFC and NFC championship games were to begin: my husband stated, "Maybe I will call up some guys and see if they want to come over. What do we have for snacks?"
I put on my last-minute entertainer cape and jumped into action! For savory finger foods, I went with 'the best dip ever', and wings that I have yet to share the recipe (and you just may feint when you see it).
But then, what about something sweet? I do not want a revolt here or to make the cool dudes think that we are no fun, so I decided to make this 2 ingredient dessert that will make your head explode. No really! Because when a friend told me about this recipe at a soup swap last week, I did not believe her – at all but heck, I had nothing to lose and no time to think of anything else.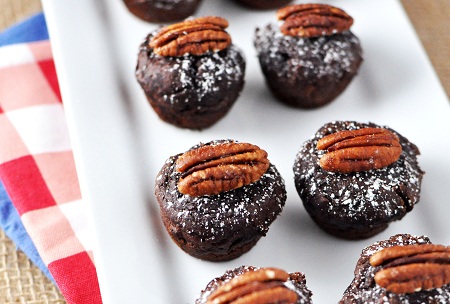 Superbowl Party Food Recipe: 2-Ingredient Chocolate Pumpkin Mini Cakes
Ingredients (yield 30 mini-cakes or muffins)
1 box of chocolate cake mix (I used Naturally Nora)
1 15 oz. can of organic pumpkin puree
Directions:
1. Preheat the oven per box instructions. Spray the mini-muffin pan/s with a baker's spray (baker's secret or Pam)
2. Combine the cake mix and the pumpkin and beat on medium for 2-3 minutes until well blended and fluffy.
3. Spoon a heaping tablespoon into each well in the mini-muffin pan and bake for about 18-20 minutes.
4. Allow to cool.
What are some of your favorite Superbowl snacks?