In case you live on Mars or are a first time reader (welcome by the way), you should know that I love to add some sort of nutritional boost to recipes such as ground flax seed, whole grains or my newest love, Chia seeds.
Why Chia Seeds you ask? What the heck are they good for? Well, Chia seeds are rich in Omega 3's, antioxidants and fiber and our bodies love those things. I thought about adding them into my favorite smoothies but since I know they can get a bit glutinous, I decided to add them as dry seeds (some folks soak them first) into the cake recipe.
You are intrigued aren't you? Want to try some for yourself? Okay then, you can use your $50 Bob's Mill Gift Card to order some Chia Seeds and whatever else you adore from their awesome selection of products (get the whole grain pancake mix, seriously).
To Enter: Answer this question in a comment on this post: What is your favorite Bob's Red Mill product?

For additional entries (you must answer the question above & leave an additional comment on this post for each entry. If you don't enter above, the entries below are void):
– Tweet this giveaway, "Win an $50 @Bobs_Red_Mill Gift Card from @savorthethyme http://su.pr/1O2BM8" (Be sure to come back and leave the tweet URL.)
– Subscribe to the Savor the Thyme RSS feed and leave a comment that you did so (yes, I verify).
– Follow @savorthethyme on Twitter
-Join the Savor the Thyme Community on Facebook
This giveaway will end on Friday, February 24th at 11:59 pm EST.  The winner will be chosen by random.org and will be contacted by email. The winner must respond within 48 hours or a new winner will be chosen.
Now, onto the recipe. Please note that this is not a light & fluffy cake, this is a stick to your bones and have with a glass of milk kind of bundt cake.
If you love winning useful and yummy stuff, DON"T MISS the Ziploc & Rachael Ray Giveaway!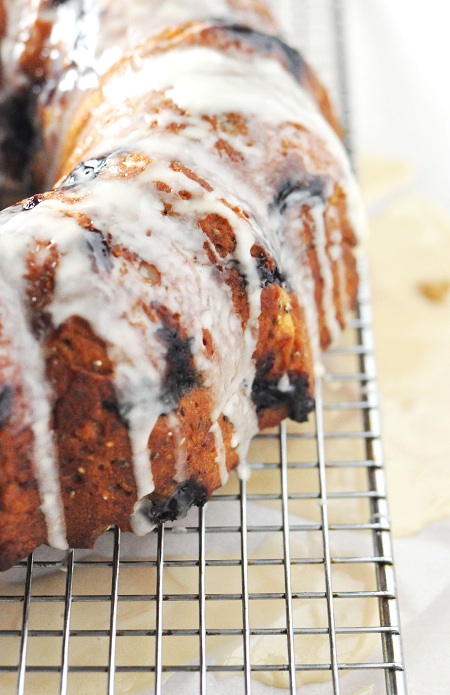 Banana Blueberry Chia Seed Bundt Cake with Coffee Glaze
Ingredients for the cake:
2 cups unbleached all purpose flour
1 cup unbleached white whole wheat flour
1/2 teaspoon baking soda
1 1/2 teaspoons baking powder
½ cup old fashioned oats
1/4 teaspoon salt
1 1/2 cup packed brown sugar
1/4 cup canola oil
1/2 cup applesauce, no sugar added
3 eggs
6 oz. plain fat free Greek yogurt
1/2 teaspoon pure vanilla extract
2 cups blueberries
1 ripe banana, mashed
¼ chia seeds, whole
Ingredients for the glaze:
1 cup packed confectioners' sugar
2-3 Tablespoons coffee
Directions:
1. Preheat oven to 375 degrees.
2. Combine the first six ingredients together in large bowl and set aside.
3. In a separate bowl, whisk together the sugar, oil, applesauce, eggs, yogurt and vanilla until combined.
4. Fold the bananas and blueberries into the wet ingredients.
5. Add dry ingredients to wet and fold to combine.
6. Fold in the chia seeds.
7. Spray a bundt pan with baking spray and then fill with the batter. Bake for about 45 – 55 minutes (Test doneness by inserting a toothpick and making sure it comes out 'clean') and allow to cool for 10 minutes and then invert onto a cooling rack and allow to completely cool.
8. Prepare the glaze by mixing the sugar and coffee with a fork and then drizzle over the cake and serve.