Do you appreciate what you have and who is in your life? Do you smile while doing the dishes and taking the umpteenth load of folded laundry up the stairs?
Most days I sing while performing these tasks and even tear up sometimes while waiting for my babes to come out from school as I know how lucky I am. However, there are some days where crappy things keep happening, I am too tired to appreciate my ability to be perform these daily tasks or I have a case of the blues.
Here is the real kicker though; Life sometimes reminds us how lucky we are because we lose people we love, relationships end, our health fails or those we love are hurt. When one of these circumstances happens to people we know, we often turn to food to try to comfort them.
Heck, a good meal warms our souls and often brings a smile to our faces right? Recently, I have needed to comfort myself and my husband and am going to share why: My mom was physically assaulted recently however, I can not share more details as there is a criminal lawsuit pending. If that was not bad enough, it has been extremely hard for our family because the person who 'allegedly' harmed her, was also someone we loved.
We also have friends who have had a sudden health scare and so I have wanted to comfort them so I have been in the kitchen whipping up some 'love' so they do not need to spend time cooking.  When it comes to making food for families, you can almost always rely on pasta to keep kids fed and smiling. Therefore, I have been making up batches of this marinara sauce and using it on lasagna, stuffed shells, meatballs and as the perfect pasta topper.
Now before I share this recipe, do me a favor: Don't forget how lucky you are! Now go on, hug the person next to you…….unless you don't know them, because you might get arrested.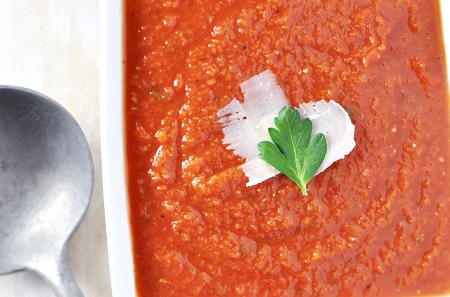 Perfect Marinara Sauce Recipe
Ingredients:
2 teaspoons extra virgin olive oil
3/4 sweet onion, chopped
2 stalk celery, chopped
2 carrots, chopped
3 garlic cloves, chopped
2 (32 ounce) can crushed tomatoes, (I used Muir Glen)
1/2 cup water
A handful fresh parsley, chopped
¼ teaspoon dried sage
¼ teaspoon dried thyme
1/4 teaspoon each course salt & black pepper, optional
Directions:
1. In a large pot, heat oil over medium heat. Add onion, carrot and celery and saute until soft and translucent, about 5 minutes.
2. Add the garlic and sauté an additional 2 minutes, stirring constantly.
3. Add the crushed tomatoes, then rinse each can with about a ¼ cup water, swirl and add to the pot. Mix in the parsley, sage and thyme. Simmer covered on low heat for 1 hour.
4. Check for seasoning and adjust if necessary.
5. Once cooled down, puree with immersion blender or place half the mixture at a time into a blender, processing until smooth. You can always simply leave it nice and chunky.
If not using all the sauce, allow it to cool completely and pour 1 to 2 cup portions into freezer plastic bags or containers.
Yields about 6 cups; more depending on whether you add water.