For my son's birthday, I wanted to send in a fun treat for the Kindergarten kiddies yet not make the traditional cupcakes & cookies. After agreeing how to dress up the requested corn muffins (sprinkles!), I decided to make them mini-sized so that we could minimize any waste by the wee ones who did not enjoy the treats.
However, for my hubby, I wanted to give him full sized muffins with a bit of a kick! No, I did not add fresh jalapeno but instead, I used the can of chopped chilies waiting in the pantry.
Do not be all snooty and refuse to make these because there is no butter in the batter or because you are all freaked out about the orange peel. You will be missing out big time because these are awesome! Besides, you can always put some butter on top when they are all warm from the oven. Naturally, you will be performing Backside Challenge #4 while you consume one right?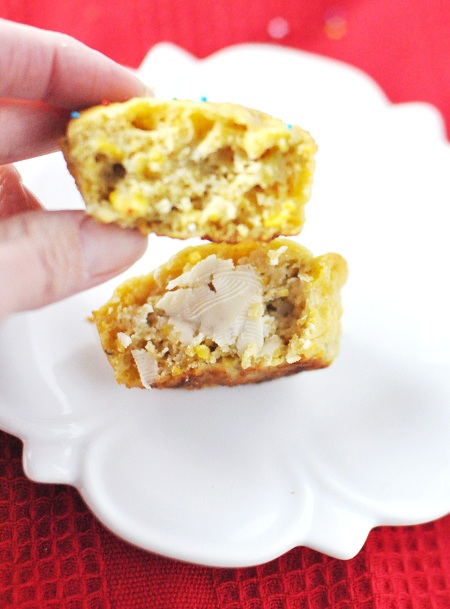 Corn Muffins with Orange & Chilies (Yield = 12 muffins)
Ingredients:
1 cup yellow cornmeal
1 cup all-purpose flour
1/2 cup packed light-brown sugar
2 tablespoons baking powder
1/2 teaspoon coarse salt
1 cup corn, thawed
Zest from 1 mandarin orange, chopped
1 1/2 cup nonfat buttermilk
3 tablespoons canola/vegetable oil
2 large eggs, lightly beaten
1 small can of diced chilies
Wilton silicone heart molds or standard 12 muffin tin
Baking spray
Directions:
1. Preheat oven to 350 degrees. Spray the silicone hearts or a 12-cup muffin tin with baking spray and set aside.
2. Combine together the cornmeal, flour, sugar, baking powder, salt, corn and orange zest and chilis in a large bowl until combined.
3. In a separate large bowl, whisk together the buttermilk, oil and eggs until combined. Fold in the chilis and set aside.
4. Fold the wet/buttermilk mixture into dry mixture until well combined. Fill each mold/muffin cup evenly about three-quarters full and bake about 25 minutes. Test with a toothpick or fork for doneness. Let the muffins cool for about 5 minutes and then gently flip out of molds/tin.
Eat as is or serve with apricot butter.