I really really wanted to call this a burrito however, the strict definition states that it needs to have a filing of meat, beans or cheese and since this recipe contains none of those, we will stick with 'wrap'. Bummer.
I made this wrap after my newly slimmed down hubby came home from a late morning workout. I wanted to make him a protein packed meal he could grab and take right up to the office.
Ready for the super simple recipe? To assemble I simply scrambled an egg, grabbed a whole grain wrap, placed the eggs, some salsa, baby spinach, tossed on some leftover Quinoa Pilaf and Voila, an quinoa & egg breakfast wrap.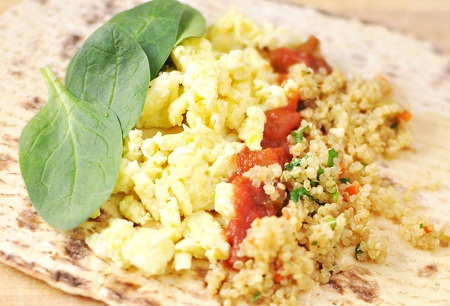 What is your healthy go-to breakfast?