Have you rented the extra large screen TV or recliners? Oh, maybe you have your jelly bracelets and 80's garb ready for the Madonna half-time show. Working on your menu and need something besides chips? You know what I am talking about – Superbowl Sunday!
No matter your plans, you need some more food ideas and one I have to share with you today is for chicken legs/drumsticks. Yes, we all love wings but if you want some chicken with enough meat to satisfy, this is the recipe for you!
To create this recipe, I used the leftover sauce from the Slow Cooker Balsamic Honey Coffee BBQ Pulled Pork. It is so dang simple to do so plan these two recipes into your weekly meal plan.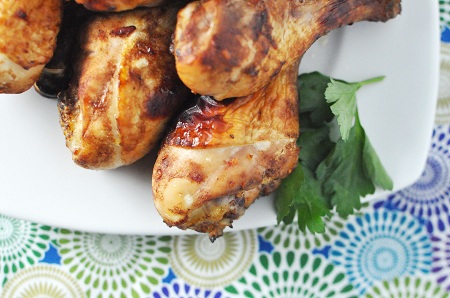 Baked Balsamic Honey Coffee BBQ Chicken Legs & Drumsticks
Ingredients:
8-16 chicken legs/drumsticks
2-4 cups of sauce
1-2 tablespoons of corn starch
Directions:
1. Heat the sauce over medium heat, add the cornstarch and whisk constantly for 3-4 minutes. If the sauce is not as thick as you want, add more cornstarch and repeat.
2. Place the legs in a storage bag or dish and coat with the sauce.
3. Marinade 1 hour or more.
4. Preheat the over to 375 degrees and bake for ~30 minutes. Check that the temperature over the chicken is minimal temperature of 165.
p.s. I meant to remove the skin but forget. Heck, I know you want it any way.
Needs some more ideas or just a great Pinterset board to drool over? Take a peek at the 'Superbowl Food Ideas' board