I am passionate about making cooking fun and easy and quick but with better, healthier choices.
What does that statement have to do with lasagna? Well, a few weeks ago, I was glancing at the Today Show while getting the kids ready for school and saw a recipe for 'Skillet Lasagna' by America's Test Kitchen and I thought: 'I am so going to make that fun variation of lasagna and it will rock our standard casserole lasagna world'
I studied the recipe, played around with ideas, drooled a lot and am now presenting the results.
It is 'awesomesauce'. Yes, I have petitioned to have that word added to the dictionary.
I am pretty sure Webster's is ignoring me and my request.
___________________________________________
**Since some of you have requested a bit more step-by-step photo guidance, I am giving it a shot. Hope it helps you out**
Onion and Pepper in first….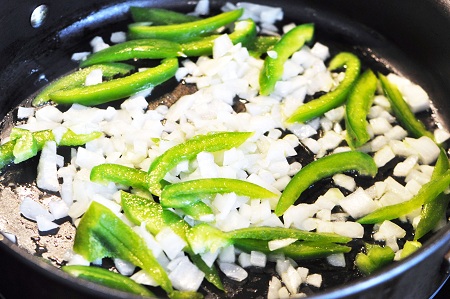 Then toss in the garlic, mushroom and zucchini….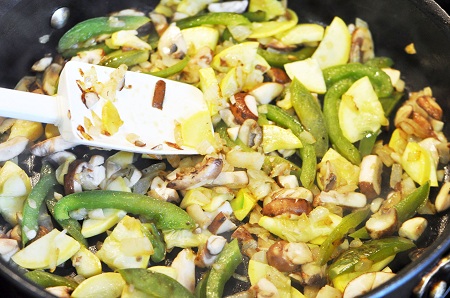 And then the lasagna noodles, tomatoes, sauce and water…..and then baby spinach (not shown)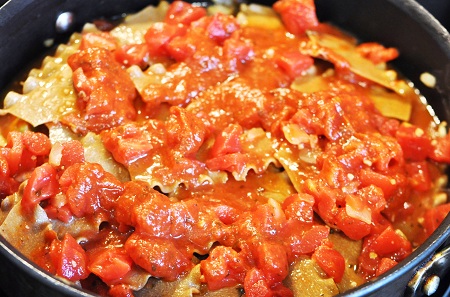 Without further ado, the complete recipe!
Vegetable Whole Grain Skillet Lasagna (serves 4-6)
Ingredients:
1 tablespoon extra-virgin olive oil
½ cup chopped sweet onion
½ green pepper, sliced thin
1 large clove garlic, chopped
½ yellow squash/zucchini, sliced lengthwise and on an angle, then cut in half
4 oz baby bella mushrooms, roughly chopped
8 whole grain lasagna noodles, broken into 2-inch lengths
14.5 ounce can diced tomatoes and juice
1.5 cups favorite spaghetti sauce
1.5 cup water
Handful baby spinach
1-1.5 cups of reduced fat ricotta
Freshly grated Parmesan cheese, optional
Directions:
1. Heat the oil in large nonstick skillet over medium heat. Add the onion and green pepper and cook until onion begins to brown, about 4-5 minutes. Stir in the garlic, zucchini and mushrooms and cook, stirring constantly for about 5 minutes.
2. Place the noodle pieces around the skillet and then cover with the diced tomatoes, tomato sauce, water and top with the baby spinach. Bring the juices to a boil, cover and turn the heat to low and allow to simmer, stirring occasionally, until the lasagna is tender, about 20 minutes.
4. Remove the skillet from the heat, place spoonfuls of ricotta on top, scatter Parmesan and allow to sit for a few minutes. Serve warm.