Tuesday, March 13th:
6:00 Wake-up. Gosh, this time change is making it too hard to get to the gym at 5:00
8:00 After dropping the kids at school, I went to the gym with my husband.
9:00 Finished and published the first 'A Day In The Life' post
9:40 Spent the next few hours working on some work for Udi's and today's Portuguese Sausage post.
11:30 Prepared for this month's Rhode Island Digital Media Women meeting
12 Phone call regarding Rhode Island Digital Media Women meeting
12:10 Lunch (egg whites, veggie and cheddar sandwich) and picking up around the house
1:00 Time for a hot bath
1:40 Had my husband get me an appointment with an Ear, Nose, Throat doctor as something is wrong with my throat
1:50 School pick-up, Jcpenney order pick-up, Post Office then home.
I got the flats in both black and nude – which should I keep?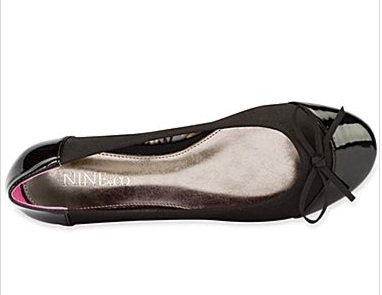 3:30 Pick up at talent show practice
4:00 Playtime
4:30 Painted trim in daughter's room
5:15: Husband tossed leftovers and had dinner with kids while I tried to get paint off my hair.
6:00 CVS then Home Depot to choose paint swatches for son's room
7:30 Bedtime for kids
8:30 Work
11:00 Bed
Phew, too much running around
How was your day?